Outdoor Gallery Exhibit: Pam Spicer
---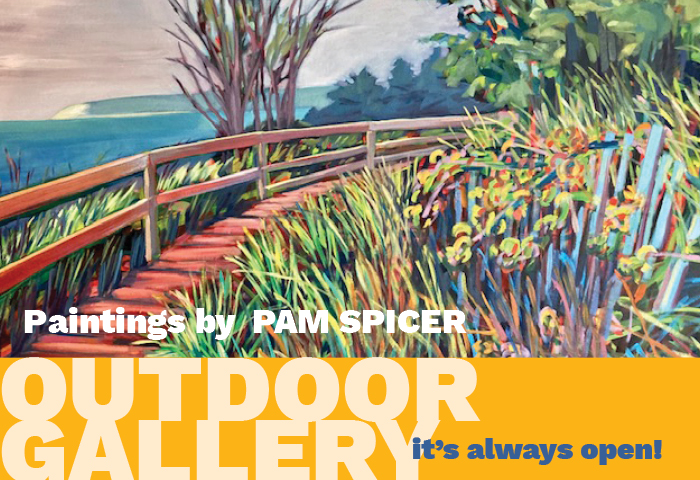 The vibrant paintings of Traverse City artist Pam Spicer are the 2021-2022 installation in the Glen Arbor Arts Center's Outdoor Gallery. Five of Pam's paintings will be reproduced on 5-foot-square weather-resistant aluminum panels by Image360 of Traverse City. The panels will be installed on the GAAC's south and west exterior walls.
Juror Mark Mehaffey selected Pam's work from a field of 14 applicants. An Empire artist, Mark's work comprised the GAAC's inaugural Outdoor Gallery exhibition in 2020. This year's Outdoor Gallery exhibition will be installed in May.
A painter with an active practice, Pam divides her time between plein air and studio work. She paints in both acrylic and oil media. For the five paintings in this year's exhibition, Pam found inspiration in many places around the region. "One location depicted is the picturesque Arcadia Marsh in Arcadia [Michigan]," she said. Pam also painted from photographs she took from a favorite spot along the Pierce Stocking Scenic Drive in the Sleeping Bear Dunes, as well as from the peak of the Empire Bluff Trail in Empire. "I found painting from my photo of hand-picked flowers in the studio this winter to be a breath of fresh air," she said.
Pam's palette is notably electric and bright. She doesn't take dictation from nature's color wheel. "I interpret colors found in nature as warms and cools rather than painting with 'local color'," she said. "I use nature's cues and interpret them through my lens as an artist to create form and perceived depth."
In addition to exhibiting at the GAAC, Pam's work has found its way into national view. In 2015 Crate & Barrel purchased two of Pam's paintings to reproduce as framed canvas prints sold in their stores. Closer to home, two of her paintings were chosen by the city of Frankfort, Michigan to be printed on banners that line Main Street. Early in her career, she taught design at the School of the Art Institute of Chicago. For many years Pam worked as a Creative Director for Frankel & Company in Chicago and also for Simon Marketing in Oakbrook, Illinois.  Pam's art is represented by Sleeping Bear Gallery in Empire, Michigan.
A ceremony to dedicate the new Outdoor Gallery panels takes place Sunday, May 30, 1 pm. The public is welcome to attend. Pam's work remains in place through April 2022. The panels will be available for purchase in Spring 2022.
The 2021-2022 Outdoor Gallery exhibition panels will be created from Pam Spicer's oil paintings. Each painting will be slightly cropped to fit the 5ft x 5ft format of the panels. Pictured above are the original paintings