Artists from across Michigan and throughout the Midwest register to participate in this two-day annual fundraiser that benefits both the arts center and the artists. Glen Arbor Arts Center was one of the original Plein Air Paint-Outs in Northern Michigan, and our event continues to attract a wide range of artists whose aim and challenge of the Plein Air Weekend is to "capture the moment." Plein air painting refers to the technique of painting out-of-doors which was popularized by the French Impressionists in the mid-nineteenth century. Artists must work quickly to complete a painting. All 2-D works must be initiated and finished on the same day, rain or shine. The artists return to the Glen Arbor Town Hall (site of the wet paint sale both Friday and Saturday) in the late afternoon to enter their work in the judged exhibit in which the public is invited to attend and purchase the art work on both nights.
Held the first full weekend in August, artists gather at the Glen Arbor Town Hall Friday morning to register for the "QUICK DRAW" event. They have 3-hours to paint their interpretation of whatever theme the Plein Air Committee has determined to focus the works of art on. In the past that may have been "Village Life – Capturing Images of Glen Arbor and Empire" or "Pastoral Life – Capturing Images of Barns, Farms, and Fields." It's different every year. All of that artwork is on display and for sale at the Glen Arbor Town Hall on Friday evening. The crown jewel of the weekend is the "PAINT OUT" event held Saturday, where participation is limited to 75 artists to paint the natural beauty of our area. They capture images of the lakes, the river, buildings, perhaps someone's garden… they are free to paint where they want, what they want for the day. Those works of art are on sale Saturday evening at the Glen Arbor Town Hall, they are professionally installed and the winning piece, receives the Amy L. Clark-Carels Award. A high honor endowed to the arts center to recognize excellence in the memory of local water color painter Amy L. Clark-Carels. It is a stellar weekend of creativity and talent descending on our Glen Arbor community, the evening sales and viewing is a visual feast for the eyes! Both sales are open to the public. To view the Saturday artwork, there is a nominal donation of $10 per person to the arts center, to attend the sale.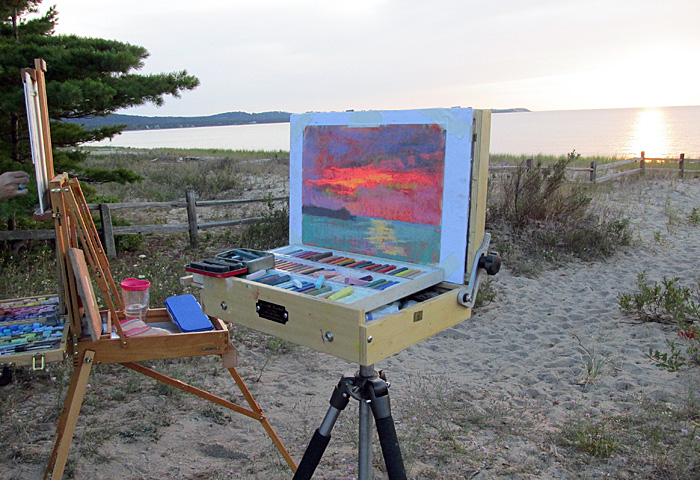 Starts: August 2, 2024 Ends: August 3, 2024
Save the dates for the 2024 Plein Air Weekend which will be held Friday, August 2 and Saturday August 3.
Find out more »