6FT APART ART Series- Pop-up #2 rescheduled for Sunday, 8/9/20
---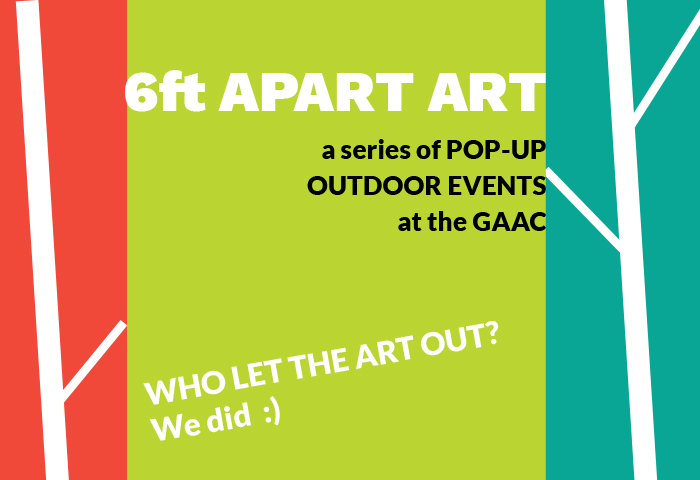 The Glen Arbor Arts Center is moving art outdoor as part of its 6ft Apart Art series of creative, pop-up events. The first event is the Clothesline Exhibit, July 24 – August 27. Open to the public, the challenge is to create an unframed painting, drawing, photograph or collage on a single sheet of paper that creatively interprets northern Michigan's landscape and woodlands. Each work will be pinned to a clothesline in front of the GAAC building at 6031 S. Lake St., Glen Arbor.
To read more about participating in the Clothesline Exhibit, go here >>.
Inspiration for this exhibition came from the GAAC's new Outdoor Gallery. In May, the GAAC installed on two exterior walls five, 5ft X 5ft panels with reproductions of paintings by Empire artist Mark Mehaffey. Mehaffey's work interprets and celebrates the northern Michigan landscape and woodlands and will be exhibited until April 2021.
"During this unusual time, when we've had to temporarily close the building to the public, this outdoor exhibition is an unexpected joy and uplifting gift," said GAAC Executive Director Sarah Kime. "We can bring so much creativity outside. And, make local art accessible to anyone, every day, just by walking by the building."
The 6ft Apart Art series was developed in response to the challenges posed by COVID-19. Practices such as social distancing will be built into 6ft Apart Art events, and offer a safe alternative to traditional indoor art activities, gallery exhibitions, and performance. The series will take place at the GAAC and turn the front- and backyards, and parking areas into arts venues.
In addition to the Outdoor Gallery and the Clothesline Exhibit, this year's 6ft Apart Art series of exhibitions includes:
Pop-Up Exhibitions + Demos
The GAAC parking lot becomes an artists' workspace and fair on July 25 and August 8. Each of the pop-up shows will feature three visual artists working in a variety of media including painting, printmaking, mixed media, metal, and clay. In addition to showing their work, the exhibitors will set up fresh-air workspaces and demonstrate. Hours: 11 am – 3 pm. Rain dates: July 26 and August 9. Talk. Buy. Free!
#1 Pop-Up + Demo [July 25] Kim Bazemore, metalsmith. Contemporary jewelry; Lindy Bishop, painter. Painting big – on a 6ft long canvas; Angela Saxon, painter/printmaker. Monotype printmaking with wooden spoon and pin press.
#2 Pop-Up + Demo [August 8] (Rescheduled due to wind, for Sunday, August 9, 11 am-3 pm)
Margo Burian, painter. Acrylic painting; John Huston, potter. John will be conducting a live raku firing; Joan Richmond, painter. Collage.
Mini Masterpieces Art Walk [July 24]
Fifty 3" x 3" canvases were distributed to Leelanau County families to craft a personal, creative expression. These tiny works will be hung on trees along the GAAC's gravel walkway from Lake Street and in the GAAC grove behind the building. This self-guided experience begins July 24 and runs through the summer.
Members Create Exhibition [July 24]
In July, the GAAC begins a process of slowly re-opening its doors to the public. To mark the occasion, the GAAC opens the 2020 Members Create exhibition on July 24. Featuring the work of 25 local, regional and outstate artists, this show is an annual showcase of work by current GAAC members. The Members Create show is in the gallery through August 27. Hours are Monday – Friday 11 am – 2 pm; and Saturday and Sunday 11 am – 2 pm during the exhibition.
Words For Water Poetry Throw-Down [July 31]
Words for Water is a collaborative project between the GAAC and FLOW [For Love Of Water], a Traverse City advocacy and policy group focused on water protection. Participating poets and writer will read a short, original poem that answers this question: Who Owns The Water? Open to all readers and writers. More information about participating in Words for Water can be found here. July 31, 7 – 8:30 pm.