Words For Water Poetry Throw-down
---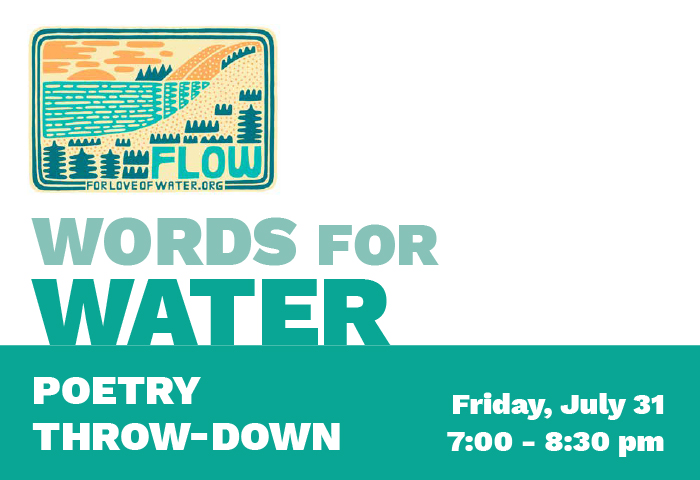 "Who owns the water?" People? Communities? Corporations? Nobody? That question is the basis for the July 31 Words For Water open-air poetry throw-down at the Glen Arbor Arts Center. This event is part of the GAAC's 6ft Apart Art program, a series of outdoor pop-up events, and is offered in collaboration with FLOW [For Love Of Water].
Participating poets and writer are challenged to create a short, original poem that answers this question: Who Owns The Water? Poems will be performed or read on Friday, July 31, 7 pm, before a live audience. Each writer may read up to five minutes. No pre-registration is required. Poets will be added to the evening's readers list on a first-come basis.
The Words For Water poetry throw-down is open to all writers and poets, both children and adults. Poems may be the work of one author or a team of writers working in any genre: poetry or prose, free verse, traditional verse, haiku, rap, beat or other experimental forms.
FLOW is a Traverse City non-profit focused on protecting the common waters of the Great Lakes Basin through public trust policy and education. Read more about FLOW here: https://forloveofwater.org/.
The 6ft Apart Art series was developed in response to the challenges posed by COVID-19. Practices such as social distancing will be built into 6ft Apart Art events, and offer a safe alternative to traditional indoor art activities, such as gallery exhibitions and performance. The series will take place at the GAAC and turn the front yard and parking area into arts venues. The Glen Arbor Arts Center is located at 6031 S. Lake St., Glen Arbor.