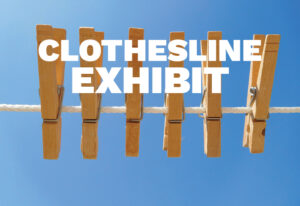 June 23 – August 25, 2023
The Glen Arbor Arts Center is getting buggy about the 2023 Clothesline Exhibit. This year's theme is Insects + Spiders. It's a celebration — an infestation of appreciation for these small creatures. Insects are the most diverse group of organisms. In the world, some 900 thousand different kinds of living insects are known. There are more than 45,000 known species of spiders found in habitats all over the world.
The Clothesline Exhibit [June 23 – August 25, 2023] is an open-air exhibition of small work. Makers of all skill levels are invited to create artwork about insects and spiders – real or imagined — in any material + media including painting, drawing, photograph, collage, paper, fabric, plastic.
About Insects + Spiders
An insect is a small animal that has six legs, and a body segmented into head, thorax, and It usually has one or two pairs of wings. Insects include the ants, flies, butterflies, beetles, crickets, mosquitoes, and bees. Caterpillars are insects-in-the-making.
A spider is a small creature with eight legs. Most types of spiders make structures called webs in which they catch insects for food.
Size
All art work must measure 5" by 7". Each work will be pinned to a clothesline in the GAAC front yard at 6031 S. Lake St., Glen Arbor.
How They're Exhibited
All art work is put in a sealed, clear envelope. The works hang in the open air, and are subjected to the elements.
How to Submit
Submissions must have:
The maker's name, and email contact on the back of the artwork.
There is no charge to participate.
Participants may submit up to two [2] pieces to the Clothesline Exhibit.
Drop off submissions at the GAAC during regular office hours; or mail them to the GAAC: PO Box 305, Glen Arbor, Michigan 49636, ATTN: Clothesline Exhibit. Deadline for submissions is June 1, 2023.
Sales
There will be no sales of artwork exhibited in the 2023 Clothesline Exhibit.
Return of Artwork

Artwork may be picked up at the GAAC at the end of the exhibition by September 8, 2023;
Or returned by mail if a pre-paid, self-addressed envelope is provided.
Artwork that is not claimed by September 8, 2023 becomes the property of the GAAC.
View It

You can enjoy the GAAC's Clothesline Exhibit 24/7, rain or shine.