Who May Enter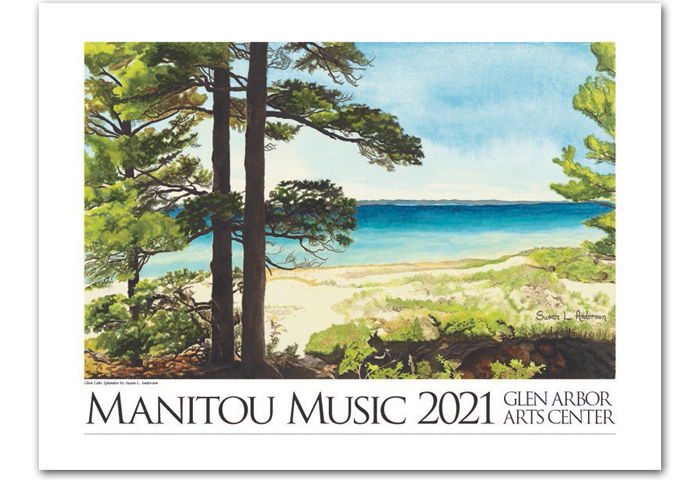 The Manitou Music Poster Competition is open to anyone who is a current member of the Glen Arbor Arts Center. Previous winners are eligible to submit again after three [3] years.
Subject Matter
Subject matter should relate to the Glen Lake area. Sites must be identified, preferably in title. Public appeal is important.
Submission of Artwork
Submissions will be accepted through the Glen Arbor Arts Center website only. Click here for online submission form.
All artwork must be original and previously unpublished.
Two dimensional work in any medium is accepted. This includes, but is not limited to: oil, acrylic, watercolor, pastel, colored pencil, and collage. Photography and computer generated work are not
Artists may submit up to two entries. There is no entry fee.
The art work must have either a vertical or a horizontal orientation approximately two units by three units. Most people will use an 18″ x 24″ frame for their poster.
Unframed maximum size cannot exceed 48 inches in any direction. Approximate minimum size is 12" × 18". Please do not enter long, narrow paintings. They do not work well for this poster. Indicate dimensions of artwork in inches on the submission form. Image may be subject to slight cropping if deemed necessary to fit the poster format.
Upload high-quality photographic images sized between 1 MB – 2 MB. Image file types are limited to jpg, gif, and png. Decisions will be made from your reproduction.
The submission deadline for the 2020 Manitou Music Poster Competition is Thursday, September 16, 2021 at midnight.
Selecting the Winner
Submissions will be juried by the Manitou Music Poster Committee. The Committee will begin reporting results of the competition by email by the second week of October.
PLEASE NOTE: Finalists will be asked to deliver or send the original piece to the GAAC. If asked to submit original work for the second round of jurying, the applicant is requested to provide a self-addressed, pre-paid mailing label and suitable packaging for return delivery if the artwork is not retrieved in person.
The artist whose work is selected for the poster will be required to agree that he/she will not exhibit the selected artwork or sell or otherwise disseminate any reproductions of it for a period of one [1] year after the agreement form is signed and dated. The artist retains all other ownership rights of the original artwork.