Creativity Q+A with Susan Thompson
---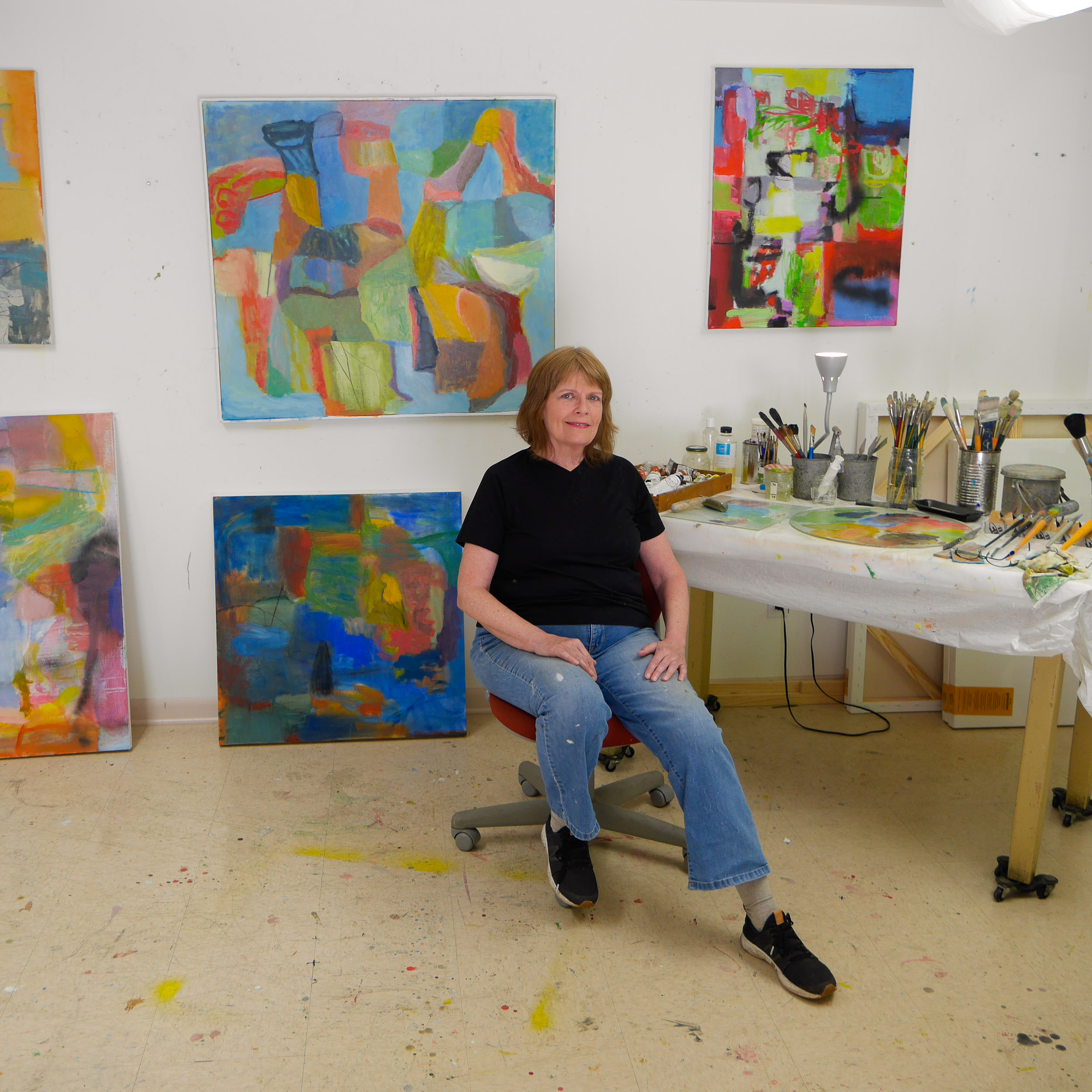 Benzie County artist Susan Thompson believes "Art is a gift that is meant to be received and that touches others. Art is an essential and primary means for mutual understanding, belonging, and commiseration." She brings these beliefs to life through many media including works on canvas, paper, paint, collage and sculpture. This interview took pace in June 2021. It was conducted by Sarah Bearup-Neal, GAAC Gallery Manager, and edited for clarity.
---
What draws you to the medium in which you work?
I work in many 2D mediums on canvas and paper. I've also done series of 3D sculptures, assemblages, and wall reliefs. I love combining multiple media in ways that create unique textures, forms, and colors. My primary medium is oil painting. Oil paints are very multi-dimensional in their rich, luminous quality. With oil paint what one sees and works with are the actual color pigments in their variety of hue, transparency, viscosity, and reflectivity of light.
Did you attend art school or receive any formal training in visual art?
I started learning about art from my mother who was an artist. She introduced me to watercolors, drawing, and oil painting at a young age. In middle school and high school in northern Virginia I went to art classes in watercolor, printmaking, and painting. I was friends with a couple of other budding teen artists and we would hitch hike into D.C. to see art in museums and galleries — not formal training, but one of the best ways to learn. I went to art school at Virginia Commonwealth University in Richmond, VA and graduated in 1977 with a BFA in painting and printmaking. In 1985 I received an MA in art therapy at the University of Illinois-Chicago.
How did your formal training affect your development as a creative practitioner?
When I was in art school in the 70s, the art world was in a process of a shake-up – Abstract Expressionist and Action Painting gave way to Color Field Painting, Pop Art, Conceptual Art, Minimalism, Performance Art, and Neo-Expressionist Art. I experimented with many art modalities including installation, collage, and very large format painting. Experimenting and trying new ideas in my art continues to inform my process. I also value knowledge of art history, especially contemporary art. Some styles of art that I studied continue to integrate into my work today: Surrealism, Expressionism, Chinese brush painting, and the work of the Chicago Imagists.
Describe your studio/work space.
Soon after my partner and I moved to Lake Ann, I renovated an Amish-built garden shed on our property and made it my art studio. All my various mediums, collage materials, and tools are organized in the relatively small space (11 x 20 feet) while completed work is stored on shelves in our basement. I love having many material options available that I can spontaneously incorporate into my work. Working in my studio reminds me of being in my room as a teenager where I would listen to music, draw or paint, read or write. It was a private world I could step into.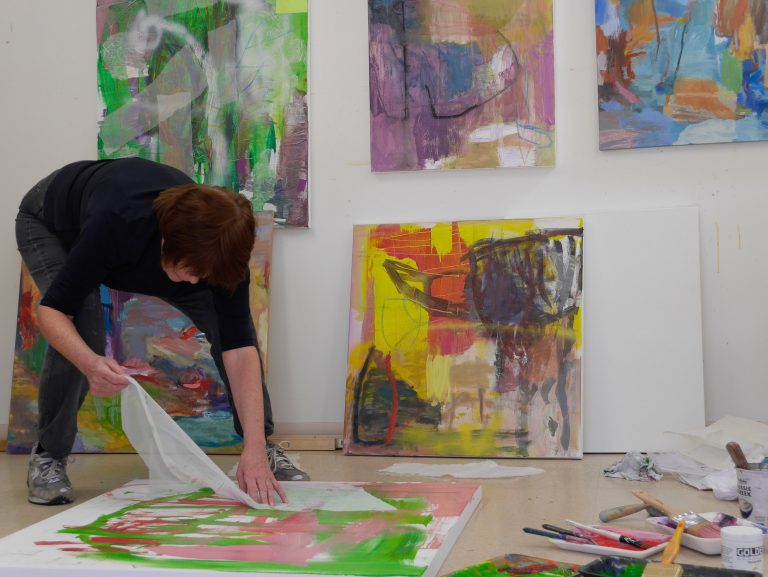 I spend several days each week in the studio working, usually 3-4 hours at a time. I don't paint every day. I've learned and accepted that taking a break is fine for my process, even several days in a row. Often I need to step back from paintings that are in process in order to let the paint dry and allow ideas to steep. I also work on "quicker" collage and mixed media on paper or assemblage as alternatives to paintings on canvas. When not painting I am reading and writing about art, viewing art online, and working to promote my work. Of course, an important part of the practice is spending time looking.
What themes/ideas are the focus of your work?
I'm primarily inspired by how perceptions of spatial dimension and flatness can simultaneously play in a dynamic way on a 2D painting surface. I experiment with form, line and color to create ambiguous space and movement across the canvas. Color is supreme for me as it creates space, light, and mood. My process involves a resistance to anything that seems rule-bound or pre-ordained. I start a painting with no preconceived idea and allow spontaneity and chance events to play out. Often areas of the painting will become too precious and I will need to obliterate those areas so something entirely new can happen. While I look to the painting itself to guide me, I also rely on my experience and skills to make choices in painting that will bring about the effect I want. I enjoy the physicality and materiality of painting, its rhythm and visible history. The layering of materials plays with the time element as it gives evidence of history, memory, and disappearance.
Underlying this process is my philosophy of life:
…that all is in continual flux …that much is uncertain and out of our control …that life energy ebbs and flows…that it seems like an infinite process, but all things must pass (as George Harrison put it)… and that human consciousness is capable of a profound, wordless understanding.
What prompts the beginning of a project? How much pre-planning do you do in advance of beginning a new project? Do you work on more than one project at a time, and/or in a series?
I don't pre-plan my artwork. Usually I have anywhere from 6 to 12 paintings going simultaneously. Often the idea for a series emerges from particular materials. For example, in 2019 I was inspired by seeing tulle fabric used in the art of Irfan Onermen. I started using tulle and natural fiber paper integrated with painting and drawing on canvas. That has resulted in an ongoing series of multi-media work. Another example: In 2017 and again in 2018 I attended the Buckley Vintage Engine show and took a lot of photos of the tractors with their beautiful designs and surface patina. This was the starting point for a series of assemblages I completed using the photos along with old crates, rusty tools and fixtures. It struck me how rural folk treasure and preserve the past by using these very old machines. Another example: In 2019 I was wondering how to use 10 empty 11" x 14" frames that I had and so I started a series of collages on paper in which the only material I used was collage scraps with no added drawing or painting. This year I decided to start a series of paintings where I only used oil paint and nothing else, returning to earlier roots. Often I have more than one series in process. I'm never short of ideas.
What's your favorite tool?
I like to use a variety of tools to create marks, texture, and layered effects. One of my favorites is the brayer. I use it to roll over an area of paint to unify the field and create texture. I like this tool because it obscures any sense of the artist's hand rendering with a brush and instead breaks free of that control and creates the unexpected. Whether it's a brush, brayer, squeegee, palette knife, charcoal stick, or marker; I love to use my hands and tools to create work and get out of my head and into flow.
How do you come up with a title?
I free-associate titles in a process similar to painting. The title I choose gives a hint to the viewer but doesn't spell out what it is. This is a kind of humor that is part of my work. Finding a title can be like a surrealist poem where an umbrella and a sewing machine are united on an ironing board in a strangely erotic way.
When did you commit to working with serious intent?
My growing up included a lot of exposure to art and art techniques. In high school my mom gifted me with a subscription to Art In America that I kept getting until her death in 1990.  I eagerly looked to each issue to find out what artists were doing. That's when I decided I'd be a professional artist. I expected that if I pursued my art I'd be in Art In America someday. Well, it didn't turn out that way, but after 50 years of making art I've found that my true commitment is to the painting itself and not to any external validation.
What role does social media play in your practice?
I have a feed on Instagram [1] I totally enjoy connecting with other artists all over the world. Some of the artists I follow and who follow me share like-minded approaches to art and support each other. I am at times influenced by what I see other artists doing. Especially when I see an artist whose work I really like and respect, painting in a brutish style. That bolsters me to keep doing the spontaneous, raw, sometimes edgy work that I do.
Besides Instagram, I post my work on my website and Singulart, an art sales platform. These regular postings online are an important bridge between my studio and the world.
What do you believe is the visual artist's/creative practitioner's role in the world?
I believe that as an artist my job includes doing whatever I can to facilitate my artwork being seen and experienced. This is a way I honor the autonomous life of the painting. Art is a gift that is meant to be received and that touches others. Art is an essential and primary means for mutual understanding, belonging, and commiseration.
As an abstract artist my work doesn't tell a story or paint a picture about particular things or events in the world, yet universal experiences of living and being are expressed in a deep and wordless way. I believe in the collective unconscious and my art taps into that. I hope to generate curiosity, surprise, and befuddlement in ways that open a space for unknowing. As the painter Arshile Gorky put it: "It is better to be conscientiously troubled and perplexed by the vastness of the unknown, than content with the little that is known."
How does living in Northern Michigan inform and influence your creative practice?
Living in Northern Michigan is a balm for my spirit. It is a natural environment that reminds me very much of my long ago childhood home in Black Mountain, North Carolina. Having moved to Lake Ann after 35 years in Chicago, I find a simpler, quieter life in which I can paint my heart out without a lot of distraction. In a way there's a bit of dissonance between my style of art and the art that I see as popular in the region. I don't paint recognizable images of the surrounding beauty and nature. My work is informed by the tension between order and chaos, beauty and ugliness, a moment's serenity and millennia of change. This is going on any place one goes. Here in the countryside, woods, and lakes I am able to practice letting go of tasking, and move toward being present and accepting. Nature is both disinterested and cradling.
"An artwork must be fertile. It must give birth to a world. Whether you see in it flowers, people, or horses matters little as long as it reveals a world, something alive." — Joan Miró
Did you know any practicing studio artists when you were growing up?
I knew a few practicing artists growing up. The artist who was the greatest influence on me growing up was my mom, Jane Thompson. She painted from her teen years until she died at age 67. She belonged to a local art guild and showed her work in community venues like the library or a cooperative gallery in town. One might say she was an "amateur" artist, but I prefer to call her an artist since that was her life-long passion and commitment. What I learned from her was to not be constrained by thinking that one isn't good enough. My mom could spend an afternoon arranging her supplies and organizing the dabs of paint in a certain order on her palette. I discovered my impatience with perfectionism and that has been a drive for my practice.
Later in life I have gravitated to a couple of artists as influences: Arshile Gorky and Philip Guston. There are many artists I love, but these two stand out: Gorky for painting true to his memories and soul; Guston for his guts in abandoning a highly successful style to paint the raw truth of his daily experience.
What's the role of exhibiting in your practice?
I always look forward to exhibiting my work. Last year I was one of three featured artists at the 2020 Oliver Art Center's Abstract show. While the exhibit was preempted by the COVID shut down, it was great to see a large number (18) of my paintings hanging in one gallery space. It's a lot of fun going to openings, which I hope will be returning soon. I enter many juried shows. Currently I'm proud to have a painting in "Women's Works" at the Woodstock, Illinois Old Court House Art Center through June 2021.  It's wonderful to be given an opportunity to have my work exhibited and to meet other artists and art lovers.
Do you have a day job?
I don't have a day job other than art making, having retired from a 35 year career as an art therapist and psychotherapist in private practice. I have pretty much continually made art and exhibited it during my adult life and now can truly devote myself to it. I've taught some workshops in the area and enjoy teaching as a gentle guidance to others' experimentation and art making.
---
Footnotes
1: Susan Thompson's Instagram address is https://@susanthompsonartist.