Wintry Woods
Carrie Hensel
This 5-foot square artwork is a reproduction of an original painting by Ann Arbor artist Carrie Hensel, winner of the 2022-2023 Outdoor Gallery competition. The panel is lightweight aluminum finished with a weather-resistant coating. It now hangs on the GAAC's exterior walls, and may be viewed at any time. Proceeds from the auction benefit the GAAC's Outdoor Gallery project.
This auction has not been started yet
Time left to start auction:
This auction has not been started yet.
Bidding Information
The auction begins April 25 @ 9:00 am. The auction closes April 27 @ 2 pm. Bidding starts at $600. Minimum bid increments are set at $20.
The winners will be contacted by email on April 27.
Artwork Details
This panel was created by Image 360 of Traverse City using a high-tech method of reproducing original artwork and printing it directly onto lightweight, aluminum panels. A specialized coating weatherproofs the panel — it has hung on the GAAC's exterior wall for almost a year, and is as bright and true as the day they were delivered.
The panel's true and brilliant colors must be seen in-person to be fully appreciated. All 5 panels may be viewed at any time before the auction.
NOTE: The panels' reproduced images fare best and retain their vibrancy if hung on a wall that does not receive constant, direct sunlight.
The panel is hung using a French cleat system with the addition of double-sided tape to insure the panel stays in place. The mounting clips and tape are hidden on the back of the panels for a clean appearance. Once the lower, doubled-sided tape is released from the back bottom of the panel, two people can easily lift the panel, which weigh approximately 25 – 35 pounds. The panel is rigid and won't wobble after it is removed from the wall.
Possession
The GAAC will remove the current panel from its fixture after the auction has ended.
The auction winner will be responsible for pick-up at the GAAC, and transport of the panel to its new location. This arrangement will be made with the auction winner after the auction is completed. Panels need to be claimed and removed from the GAAC by Wednesday, May 10, 2023.
The GAAC will retain the wall-mounted fixture. The auction winner will retain the cleats epoxied to the back of the panel.
When you buy a panel, you can also purchase the specialized wall mount hardware from Image360. This hardware typically costs under $100 but can vary depending on the wall type the panel will be mounted to. Additionally, Image360 can be contracted to install the panel for you. Installation costs vary depending on the location – call 844-967-4467 for a quote if interested.
Artist Bio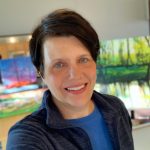 Carrie's paintings express a joyful, vibrant celebration of the interconnectedness of the natural world she's spent so much of her life observing with curiosity and wonder. Sunlight and color take center stage with this work. An avid hiker, forager, and wild-experience seeker, Carrie's acrylic paintings are inspired by her adventures across Michigan. She spends countless hours outdoors, hunting for morels, chanterelles, "and other miraculous finds."
"With both foraging and painting, I feel called to search, root around, feel afraid that I'm lost in a deep thicket, and then by some intuition find a new way out and bring a treasure with me," she said.
Carrie took inspiration from scenes in northern Michigan for the five paintings in this year's Outdoor Gallery exhibition. "I chose paintings that represent the color and feeling of each season," she said. For example, one painting captures pine trees on a steely blue winter day. Another depicts an early spring evening when the sun sank behind a stand of white pines and lit up the branches like stained glass. Still, another catches the movement of the yellow leaves of birch trees fluttering against an autumn sky.
Carrie takes photos on her outings and uses them as inspiration in the studio. Her goal is to use quick, bold strokes and a vivid color palette to catch the light capture a moment in time.
"I love to push color beyond what our eyes see, yet still within the realm of possibility, so when people see the work, they say, 'Oh, that looks a little bit magical, but I think I've been there before,' "she said. "And I love to paint my favorite moments – like a spring morning in a Trillium-filled woods near Arcadia or a twilight fishing expedition on Bear Lake – because these are their favorite moments for so many Michiganders."
Growing up on a small farm in Midland, Michigan, Carrie roamed the woods, orchards, and fields. Carrie earned a BFA (Painting & Drawing) from the University of Michigan and a BS in Chemistry from Albion College. Collectors have purchased her work across the US and UK. It has been shown at galleries in the Ann Arbor area, including a solo exhibit at the University of Michigan Comprehensive Cancer Center.
© 2023 Glen Arbor Arts Center | A tax-exempt 501(c)(3) nonprofit organization