Wintery Worlds, Ink & Watercolor Session 1
---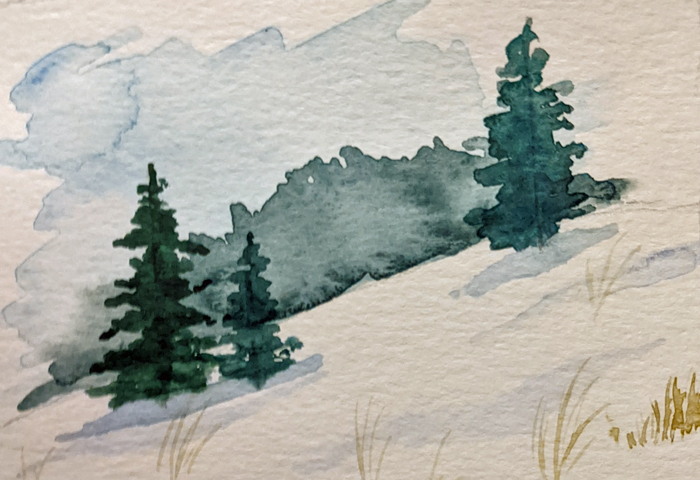 Date: January 23
Time: 10 am-12 pm
Registration Deadline: January 20
Location: Livestream via Zoom
Indigo shadows fall across the snow,  a fresh stomped trail leads to a cozy cabin, a cheerful chickadee bounces in the pine branches above. Each Zoom session will consist of an interactive demo, a warm-up painting and sketch, and a larger 5×7 piece we create together. There will also be time to answer questions and suggestions for the participants to dive deeper on their own.  Subjects covered include snowscape color studies, painting pine trees, and winter wildlife in ink washes. We will be experimenting with mark-making, setting up a composition, and mixing colors. Students can take each class individually as a one-off or take the set to try all the activities provided.
Hannah Safford studied Drawing and Art Education at Montana State University. Since leaving school, they have been teaching drawing and painting classes at art centers in Michigan. They are avid bird watchers and have been using their illustration skills to record the birds as they see them in their sketchbooks. Their work was recently published in the children's book "Hector: A small painted turtle. www.hmsafford.com
Watercolor set (8-12 colors), waterproof India ink (black), plastic painting palette, small round brush, medium round brush, waterproof pen, HB sketching pencil & eraser, watercolor paper, a sketchbook for practices and warm-ups.