Winter Sketchbook Practices
---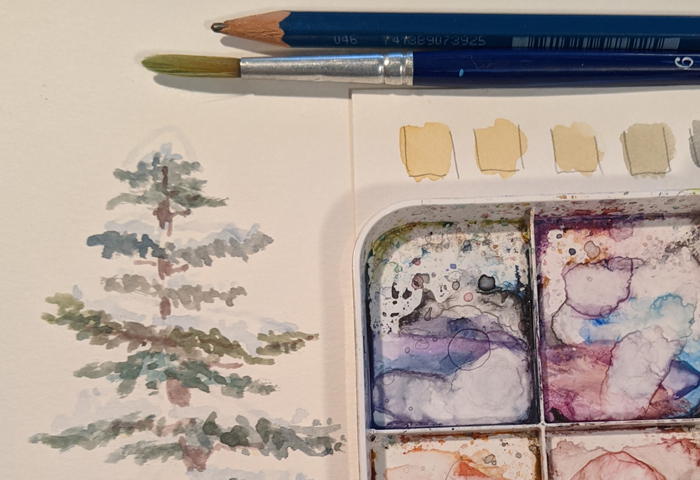 Dates: Saturdays Feb 6, 13, 20 & 27
Time: 10:30am – 12pm
What would it look like to paint the "winter blues?" As the cold shifts the landscape, escape to your sketchbook to draw cozy scenes, paint winter's cool tones, and enhance your daily journal experience. We will use watercolor, graphite, and ink to complete weekly activities. Each Zoom session will consist of an interactive demo, practice critique and time to answer questions, and an assignment for the student to dive deeper on their own.
Subjects covered include snowscape color studies, capturing the texture of cozy fabrics, painting pine trees, and grounding objects in an indoor still life. We will be experimenting with mark-making, setting up a composition, and creating chromatic greys. Students can take each class individually as a one-off, or take the set to try all the activities provided.
Format: Live Zoom (a Zoom link will be sent a few days before the workshop).
Hannah Safford studied Drawing and Art Education at Montana State University. Since graduating she has been teaching drawing and painting classes at art centers in Michigan. She's an avid birdwatcher and has been using her illustration skills to record the birds as she sees them in her sketchbooks. Her work was recently published in the children's book "Hector: A small painted turtle."
Requests for cancellation by the student at least seven (7) days prior to the first day of class will be honored (minus a $20 processing fee). NO REFUNDS will be given for a student cancellation made less than seven (7) days in advance of the day of the class.