Watercolor Botanicals
---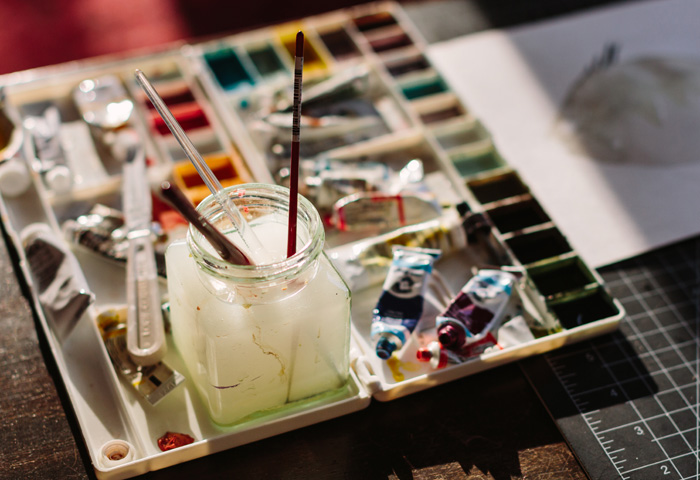 Date: May 14
Time: 10 am-1 pm
Registration Deadline: May 11
Location: GAAC
Pick up your paintbrush and experiment with watercolor. Practice basic techniques and learn tips for layering color and creating texture to create beautiful botanical designs. Working with Michigan flora, you'll practice watercolor washes, color mixing, mark-making, and techniques for creating texture.
To start, we'll look closely at artist samples and discuss what we see. Then we'll come together for artist demonstrations before you set out to create your own abstract watercolor studies. This workshop is designed for building painterly skills via experimentation. Bring a friend and tap into the joy of watercolor!
Dani Knoph Davis is an artist, writer, and advocate for wildlife conservation in Michigan. She launched Dani Knoph Wildlife Studio in 2017. Archival prints of her artwork can be found at specialty shops and galleries. In 2017, Dani joined a statewide effort to reintroduce Northern Michigan's once predominant native salmonid species, known as the Arctic Grayling. www.daniknoph.com
This is a suggested supply list if you'd like to bring your own materials. GAAC will provide materials for class use for anyone not able to bring their own.
HB Pencil
Gum eraser or kneaded eraser
Drawing Compass
Small container for water
Painters Tape
Paint pallet with wells (you'll want at least several circular or rectangular wells)
12-inch or longer ruler
Paper towel
At least three brush sizes are recommended
At least five colors of various watercolor tubes of paint: A good place to start is by purchasing one 5ml tube of each: winsor yellow, yellow ochre, chinese white, cadmium red, phthalo blue, viridian green. (**Two high-quality brands: Winsor & Newton, Grumbacher)
Watercolor paper, 9″ x 12″ or 11″ x 15″
**All of these supplies can be found at Michaels
COVID-RELATED UPDATES TO 2022 PROGRAMS AS OF December, 2021
To ensure the safety of our students and staff, we have implemented new procedures for our 2022 programs, to mitigate the spread of COVID and still allow participants to have a wonderful time creating art.
Class sizes will be limited to 12 persons or less for outdoor programs and 8 or less for indoor programs.
All students must wear face coverings inside the center.
Students and staff will wash and sanitize hands frequently throughout the day.
Common areas and touched surfaces will be sanitized regularly.
To keep pace with the evolving conditions related to the pandemic, any new policies or procedures for classes will be communicated.