Visual Notetaking
---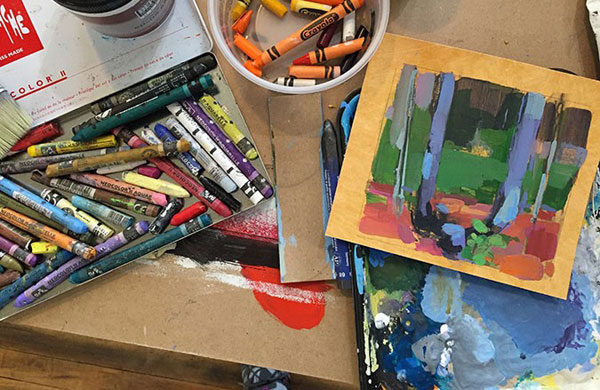 Sorry, this class has been cancelled.
Immerse yourself in the practice of visual notetaking and begin to develop a language uniquely your own through sketchbooks, drawing, painting, and photography in this two-day class. While the focus of the work will be primarily on developing drawing, painting and compositional skills, we will also consider how the camera can help or hinder the painting process. Throughout the workshop, we will make a variety of investigations into furthering each individual's visual vocabulary by looking at slides, drawing from life and memory, learning to interpret black and white drawings with color, and using the camera as a compositional tool. Through a series of fast paced inquiries, we will delve into exploring materials and observation as a way of connecting with the world as preparation for painting. Please note: we will not make finished paintings, but rather embolden and stretch our own ideas of what constitutes the painting process.
Skill level:  Must be familiar with the water-based medium of choice.
Margo Burian is an award-winning artist who maintains studios in Grand Rapids and Northern Michigan. She holds a BFA from Kendall College of Arts and Design. After a long career as a commercial illustrator, the transition to fine art was a natural evolution. She is best known for her iconic Northern Michigan landscape paintings in oil and acrylic. Heartfelt enthusiasm and creativity are the hallmarks of Margo's teaching style. She approaches her classes with openness and encourages students to embrace their own innate creativity. www.Margoburian.net
Supply List | Workshop Dates: September 7 & 8