Virtual Art Camp: Art Rangers Week 3
---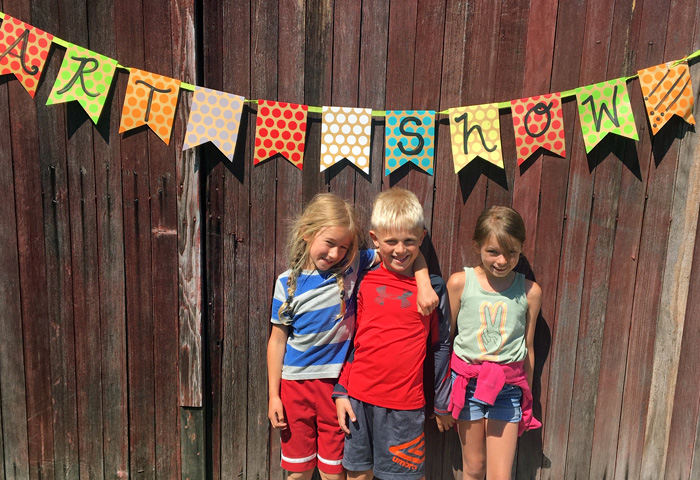 Cousins across the country and friends in faraway places can join together in GAAC's virtual summer camps! Each virtual camp offers lots of hands-on activities and flexibility to work at your own pace. Each curated art kit is especially designed to accompany the activities and lessons in the online content.
Title
"Expressing Movement with Art: Charcoal and Paint" (inspired by contemporary artist Heather Hansen, Jackson Pollack, and the science of magnetism and movement)
Description
Young artists will combine art and science to create abstract artwork that explores and captures movement. They will learn about the life and art of Heather Hansen and then explore chalk and charcoal techniques to create and capture motion. The action painting of Jackson Pollack will lead them to experiment with the forces of motion by using paint and small objects to make lines and shapes with paint by rolling and sliding.fantasy creature.
Format
Four teaching videos (approximately 20 mins each) with an optional Zoom online meetup. An art kit will be provided with all the materials needed for creating alongside the teaching videos and for hours after the video ends.
Art Kit Contents

Contents: Welcome letter; Charcoal pencil & sharpener; Charcoal sticks; Chalk pastels; Acrylic paint in squirt bottles; Palette for paint; Marbles; Magnet wand ; A variety of small metal objects (paper clips, screws, springs, ball bearings); Styrofoam tray; 5×7 sheets paper; Plain papers; Large format drawing paper; Scissors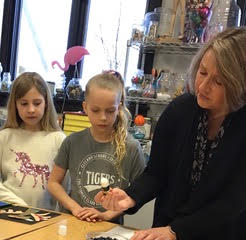 Jill Hunt is a passionate art educator who recently relocated to Leelanau County and is excited to connect with the area's arts community. She has guided students ages preschool-adult in a variety of art experiences and workshops as well as creating art curriculum for schools, summer camps, and activities for museums. Some of the media experiences Jill has explored with her students include drawing, painting, sculpture, collage, cartooning/animation, glass fusing, wet felting, digital art/photography, and hand building with clay and on the potter's wheel. Her personal inspiration comes from artists who use color and shape in dramatic imagery as well as from the delight her students exhibit in their art-making experiences.
What happens when I sign up?
When you sign up, you may choose to pick up your art kit on Wednesdays between 11am-2pm at GAAC or have it mailed to you. A few days before class starts, you'll receive a welcome email with details for accessing the video teaching modules via google classroom and an optional Live Zoom meet-up with the teaching artist and other students.
When does my art kit ship?
Art kits ship the week before the virtual camp begins. Please register at least 10 days in advance if you require a mailed kit.
What if I'm not within the recommended age?
Our recommended age is only a guideline, based on the video content and art kit materials. We'll let you be the final judge on signing up!
Monday, August 3
Tuesday, August 4
Wednesday, August 5
Thursday, August 6: Zoom "Show and Share" from 11am – 12pm (optional)
Refunds: We understand that your plans might change. If they do, notify the GAAC office as soon as possible. Requests for cancellation by the student at least seven (7) days prior to the first day of class will be honored (minus a $20 processing fee). NO REFUNDS will be given for a student cancellation made less than seven (7) days in advance of the day of the class.
Minimum Enrollment: Glen Arbor Arts Center Arts Center reserves the right to cancel any class or multi-day, sequential-day workshop that does not meet its minimum student enrollment prior to the first class session. If a class is cancelled by GAAC for lack of enrollment, GAAC will offer a full refund to the student in the manner in which tuition was paid (Cash payments will be refunded by check).