Transforming the Landscape with Watercolor
---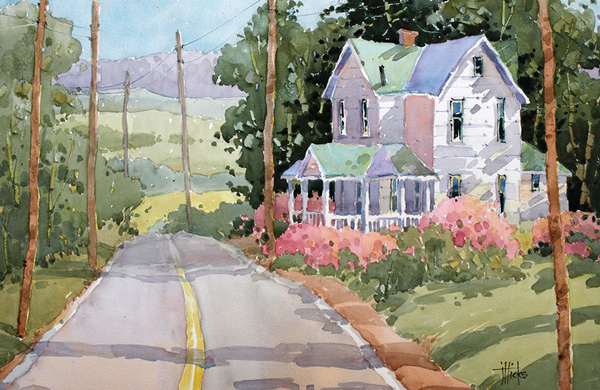 September 9 – 12, 2019: Joyce brings her passion and love for teaching to inspire and motivate in a fun, fast-paced 4 day workshop. Emphasis is on techniques and strategies for transforming ordinary scenes into extraordinary ones with watercolor; scenes that reach out and connect with viewers. She teaches simple easy-to-learn methods that will appeal to beginners as well as seasoned artists looking for renewed inspiration and insights into new ways of thinking. You will learn from clear explanations about the reasoning behind artistic decisions and visually from daily step-by-step demonstrations. You will become more comfortable with the watercolor medium while learning to distill and simplify scenes from inspiration to finished work of art. Once technical aspects have been mastered, your confidence will show and your own "signature style" will begin to emerge for works of art that are uniquely yours. Afternoons are devoted to one-on-one time with students.
Skill level: must be familiar with the watercolor medium.
Following are a few of the topics covered in her workshops.
declutter, simplify your scenes for strong compositions in 4 easy steps
begin building your own visual language of symbols to paint by
painting "relationships" instead of "things"
atmospheric perspective in the landscape
important design principles for creating exciting paintings
working with photographs, sketch books and color studies
planning strategies that will allow you to paint spontaneously and with confidence
daily lectures and demonstrations
something for every level
[tabby title="Instructor Bio"]
Joyce Hicks' sunny paintings have received international recognition and she is a three-time award winner of the prestigious American Watercolor Society with Signature Membership Status. She travels frequently in search of beautiful places to paint, conducting national and international workshops, giving gallery talks and acting as juror for watercolor exhibitions. Her work is widely published appearing in many of the popular
Splash Series Books
and
Art Journey America: Landscapes
to name a few. Her painting "
Out Santa Rosa Creek Road
" was chosen for the cover of
Watercolor Artist Magazine
along with a full-length feature story about her work and travel in April 2011. She has three feature length instructional DVDs and is the author of the popular book "
Painting Beautiful Watercolor Landscapes
."
www.jhicksfineart.com
and
www.facebook.com/jhicksfineart
. [tabby title="Dates/Location"]
Dates
Monday, September 9, 12pm – 7pm
Tuesday, September 10, 9am – 4pm
Wednesday, September 11, 9am – 4pm
Thursday, September 12, 9am – 4pm
The Homestead
The Homestead Resort offers special room rates for students of this workshop.
[tabby title="Supply List"] From the instructor: please note the following are the supplies I use to create my paintings. I do not require that you replicate this list. However, I feel it important to use all artist grade materials for optimal results. I do not recommend student grade materials. Many of the materials I use are available from My Favorite Things page on Amazon at www.amazon.com/shop/jhicksfineart.com. My workshops follow the teachings from my book "Painting Beautiful Watercolor Landscapes." If you have a copy that you would like for me to personally sign for you I would be pleased and honored to do so.
Supplies
Small sketchbook. I use a 6×6 Spiral Canson "Field" Sketch Book
Soft lead pencil, sharpener and eraser
Support like Gator Board to hold paper. Support not necessary for watercolor blocks
Watercolor palette
Water container
Masking tape
Black Sharpie Pen
Paper towels and/or tissues
Small pointed palette knife like used for oil painting. I use this tool to create line and texture in every painting!
Bring several grayscale copies of photos that you have personally taken which include architectural as well as organic shapes. Print your photos in a very light/draft/grayscale mode on your home computer on plain computer paper. These will be used for compositional purposes only! Not to paint from!
Arches Watercolor Blocks In small sizes no larger than 9×12 or 12×16 are great too. I recommend and use these for all my demonstrations!
Arches Watercolor Paper if you don't want to use Arches Blocks, then a 22×30 full sheet divided and torn into 5×7 and 8×10 pieces for watercolor sketches and color studies will also work. I do not recommend student grade paper or any brand including Arches that comes in tablet form!
Princeton Synthetic Sable Brushes 4050 Round Series: #10, 12, and 16
Princeton Synthetic Sable Brushes 4050 Liner Series: #2. I use a liner brush, also known as "rigger" in every painting I create!
Da Vinci Watercolor Pigments comprise my entire palette. I will only use a select few from this total to create my limited palette paintings. Alizarin Crimson, Permanent Rose, Vermillion, Benzimida Orange, Hansa Yellow Light, Hansa Yellow Deep, Burnt Sienna, Raw Sienna, Quinacridone Gold, Manganese Blue, Cobalt Blue, Ultramarine Blue, Viridian, Sap Green and Prussian Blue.
[tabby title="Refund Policy"] We understand that your plans might change. If they do, notify the GAAC office as soon as possible. Requests for cancellation by the student at least thirty (30) days prior to the first day of the workshop will be honored (minus a $20 processing fee). NO REFUNDS will be given for a student cancellation made less than thirty (30) days prior to the first day of the workshop. [tabbyending]