The Fundamentals: Landscape's Puzzle Pieces: Lakeshore
---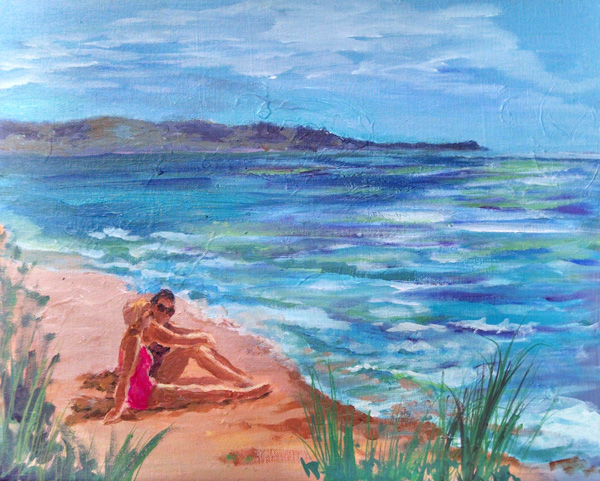 Picking up a brush to create a landscape, in many ways, is just like those mystery jigsaw puzzles that are all the rage now. Like on of those puzzles, landscapes have pieces to be assembled. Landscapes even have edges. In a mystery puzzle, the picture to be put together is not shown. Similarly, one never knows exactly what each painting will look like until it's finished. It's never an exact copy, even if working from a photo, or an image in the artist's head. That's the thrill of making art.
Take out some of the mystery by breaking landscape painting down into manageable pieces. Explore where to start and finish and learn to unite components in different ways. Combine your own artistic spin with tried and true methods to guarantee success.
Lake shores are a prominent Northern Michigan feature. Learn how to paint a background with sky and the distant shore, a middle ground of stormy waves or calm water with reflections and a foreground with sand and grass.
Mary Guntzviller has been teaching art since 1993. She has a BFA from Wayne State University and has been a professional artist since 1988. Mary is the illustrator of McGillcutty,A Very Special Bear, a children's book released In Dec. 2014. She won 1st place at the GAAC 2012 Paint Out and 2nd place at the Traverse City Botanical Gardens Paint-Out in 2013. Her paintings have been accepted at the Michigan Watercolor Society and are displayed in private and public collections throughout the United States. guntzviller.com
Supply List | Workshop Date: August 1 | Time: 1 – 4 pm