The Collage Class
---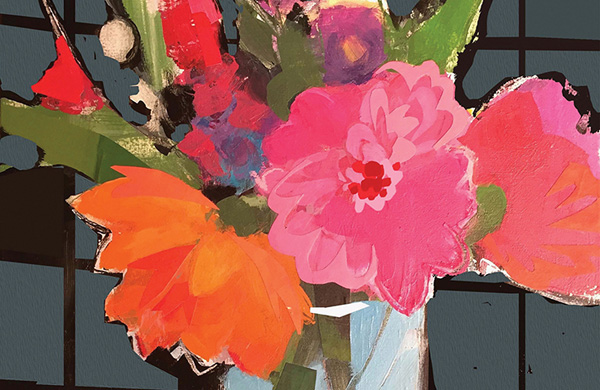 August 12 – 13: Explore the world of color and shape in this two-day acrylic painting collage workshop. Through a series of fast and fun exercises, participants will expand their knowledge of color mixing, while building a "palette" of colored paper. The colored papers will then be used to create collage paintings. Students are encouraged to bring their own photos or sketches to serve as inspiration for the collage paintings.
This class is suitable for all levels.
[tabby title="Instructor Bio"] Margo Burian is an award-winning artist who maintains studios in Grand Rapids and Northern Michigan. She holds a BFA from Kendall College of Arts and Design. After a long career as a commercial illustrator, the transition to fine art was a natural evolution. She is best known for her iconic Northern Michigan landscape paintings in oil and acrylic. Heartfelt enthusiasm and creativity are the hallmarks of Margo's teaching style. She approaches her classes with openness and encourages students to embrace their own innate creativity.
Tuesday, August 13, Time: 10 am – 1 pm
[tabby title="Supply List"]
Supplies included with price of class
: acrylic paint, matte medium, paper, copy paper and cardboard mixing surface.
Students will need to supply the following:
Water containers (2 large plastic tubs)
Small plastic container preferably with lid
Minimum 3 Assorted Brushes – soft nylon 1" flat (available at Michaels or Dick Blick) plus assorted rounds and flats
Pencil
Ink
Pen
Scissors
Paper Towel
Large drawing board
Sketch Book
Blue Painters tape
[tabby title="Refund Policy"] We understand that your plans might change. If they do, notify the GAAC office as soon as possible. Requests for cancellation by the student at least thirty (30) days prior to the first day of the workshop will be honored (minus a $20 processing fee). NO REFUNDS will be given for a student cancellation made less than thirty (30) days prior to the first day of the workshop. [tabbyending]