Teaching Virtually: Techniques, Technology, and Tips
---
Dates and Time: April 12 & 19 @ 7-8pm
Registration Deadline: April 9 @ 12pm

GAAC is excited to offer this workshop for FREE to any GAAC teaching artists. We want you to grow professionally so sign up today. Space is limited, so please register by April 9.
Setting up for live streaming or videotaping an art class can be challenging—from deciding which tools are used to selecting audio equipment and software. What do you already have, and how can you set up without spending too much?
Join Dylan Evans Weiler to explore how to customize and improve your live streaming or recording setup. This two-part workshop will cover:
• what is necessary equipment vs. what is convenient to have
• how to set up the equipment
• which software to use
• customizing Zoom set up / changing audio and video settings in Zoom
• Zoom and OBS (streaming software)
• rotating camera image, picture-in-picture for demos
• audio setup and troubleshooting audio issues
• light and studio set up
• simple audio treatments
• studio lights vs. lighting on a budget
• answering technical questions and troubleshooting individual issues
The first class will be an overview of the options and how to get started. Participants will have a week between sessions to experiment and submit their questions and challenges for the second class.
Format: Virtual, Zoom.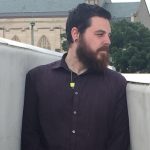 Dylan Evans Weiler holds a BFA from Northern Michigan University and earned his Master of Fine Arts from Laguna College of Art and Design. His primary focus during his studies was on painting, but his practice includes a diverse set of media including printmaking, historical photographic process, sound and installation to name just few. He brings together traditional and new media to create a more engaging experience for the audience.
Website: http://www.dylanevansweiler.com
Minimum Enrollment: Glen Arbor Arts Center reserves the right to cancel any class or multi-day, sequential-day workshop that does not meet its minimum student enrollment prior to the first class session. If a class is cancelled by GAAC for lack of enrollment, GAAC will offer a full refund to the student in the manner in which tuition was paid (Cash payments will be refunded by check). Please be aware that GAAC is not responsible for losses incurred due to housing, travel or other arrangements.
Requests for cancellation by the student at least fourteen (14) days prior to the first day of the workshop will be honored (minus a $20 processing fee). NO REFUNDS will be given for a student cancellation made less than fourteen (14) days prior to the first day of the workshop.