Solstice Plein Air
---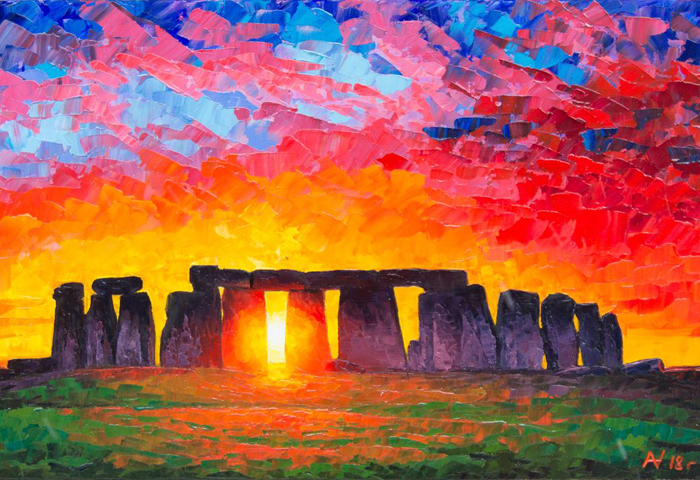 Date & Time: June 21; sunup and sundown (exact times TBD)*
Registration Deadline: June 18
Be inspired by the Druids at Stonehenge. Paint the rise and fall of the Summer Solstice (the longest day of the year). For sunrise, we meet at the parking lot at the west end of Little Glen to paint the sunrise. For sundown, we meet at Glen Haven beach to paint the sunset. Coffee and donuts will be available at sunup, cheese, and refreshments at sundown. A detailed schedule will be emailed a few days before class.
*Technically, the solstice begins at 11:35 pm on June 20, so the longest day will be the 21st.
Hank Feeley is an author, painter, and sculptor whose second book Painting the Joy of Sleeping Bear County published in 2016. He is a graduate of The School of the Art Institute of Chicago and Harvard Business School. He has been a Visiting Artist at SAIC, an Artist in Residence at Ox-Bow, taught at Roosevelt University and the Dennos Museum and Interlochen. His work is held in public and private collections nationally and internationally. He is represented in Chicago by Aron Packer Projects and, in New York, by First Street Gallery.
This list is for oil painters. Watercolor, pastel, or acrylic painters should bring the equivalent. Call Hank if you have questions: (312) 560-3916.
150 ml tube of Gamblin galkyd gel
portable easel. I suggest a French easel or something like a Stanrite 500 aluminum
a small portable/fold up table to hold pallet and paints
six medium canvases ( eg: 14″ x 16″)
pallet ( Get the 16″ x20″ tear-off pallet at the craft store )
at least a quart of low odor mineral spirits
a brush cleaner jar with wire inside (get at the craft store)
lots of tee shirt material wipe cloths
paper towels for cleanup
brushes
Paints:
– Titanium white
– Cadmium yellow deep
– Cadmium yellow light
– Cadmium red medium
– Cadmium red light
– Sap green
– Sevres blue
– Ultramarine blue
– Alizarin crimson
– Burnt umber
– Reddish violet
Minimum Enrollment
Glen Arbor Arts Center reserves the right to cancel any class or multi-day, sequential-day workshop that does not meet its minimum student enrollment prior to the first class session. If a class is cancelled by GAAC for lack of enrollment, GAAC will offer a full refund to the student in the manner in which tuition was paid (Cash payments will be refunded by check). Please be aware that GAAC is not responsible for losses incurred due to housing, travel or other arrangements.
Refunds
Requests for cancellation by the student at least seven (7) days prior to the first day of class will be honored (minus a $20 processing fee). NO REFUNDS will be given for a student cancellation made less than seven (7) days in advance of the day of the class.
COVID-RELATED UPDATES TO 2021 PROGRAMS AS OF MAY 18, 2021
To ensure the safety of our students and staff, we have implemented new procedures for our 2021 programs, to mitigate the spread of COVID and still allow participants to have a wonderful time creating art.
Class sizes will be limited to 12 persons or less for outdoor programs and 8 or less for indoor programs.
All students must wear face coverings inside the center when social distancing isn't possible.
Students and staff will wash and sanitize hands frequently throughout the day.
Common areas and touched surfaces will be sanitized regularly.
To keep pace with the evolving conditions related to the pandemic, any new policies or procedures for classes will be communicated by June 15, 2021.