Slippery Surface Watercolor
---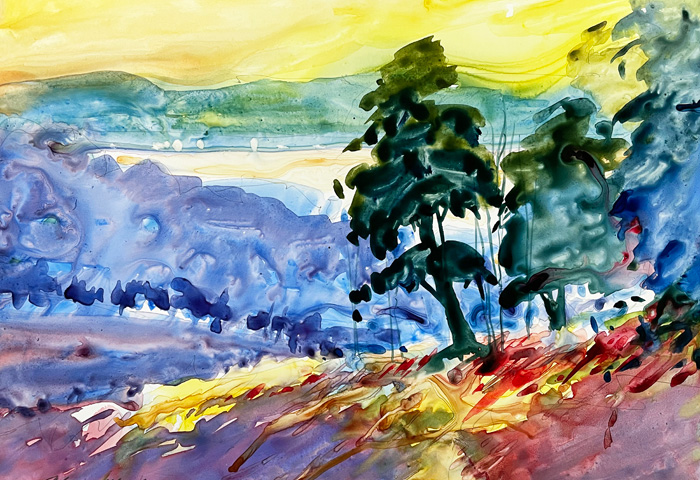 Date: Saturday, May 6
Time: 9 am-3 pm (with a lunch break)
Registration Deadline: May 3
This class is for all skill levels and will explore three "slippery" surfaces in watercolor. We will bravely paint Gesso on paper, Watercolor Board, and Yupo paper. All these surfaces lead to unlimited corrections and manipulations. There are no mistakes that cannot be corrected. Textures abound, and gravity leads to extraordinary, unexpected results. Join us for a fun exploration! The instructor will provide some materials.
Internationally recognized artist Mark E. Mehaffey is a signature member of the American Watercolor Society; Dolphin Fellow, the National Watercolor Society, Watercolor USA Honor Society, the Transparent Watercolor Society of America; Signature Life Member – Master Status and Distinguished Master, Watercolor West, the Rocky Mountain Water Media Society, the Louisiana Watercolor Society; Signature Life Member, the International Society of Experimental Artists, Signature Life Member, Nautilus Fellow, and the International Society of Acrylic Painters.
Mark is a popular juror, workshop instructor, and lecturer.
Website: markmehaffeyfineart.com
The instructor will supply Yupo paper and transparent watercolor. Gesso will be available to apply to paper in the morning session for the afternoon session.
COVID-RELATED UPDATES TO 2023 PROGRAMS AS OF 12/20/2022
To ensure the safety of our students and Staff, we have implemented new procedures for our 2022 programs to mitigate the spread of COVID and still allow participants to have a wonderful time creating art.
Class sizes will be limited to 12 persons for indoor programs and 16 outdoor programs
All students who have symptoms of respiratory or gastrointestinal infections, such as cough, fever, sore throat, vomiting, or diarrhea, should stay home and not attend class.
Students and Staff will wash and sanitize hands frequently throughout the day.
Staff will sanitize common areas and touch surfaces regularly.
We have optimized our indoor ventilation system to reduce the risk of germs and contaminants spreading through the air.
If Leelanau County COVID-related cases are designated high risk, students and visitors must wear a face mask to prevent transmission.
To keep pace with the evolving conditions related to the pandemic, Staff will inform the GAAC's new policies or procedures before the start of the course.