Printmaking on Fabric
---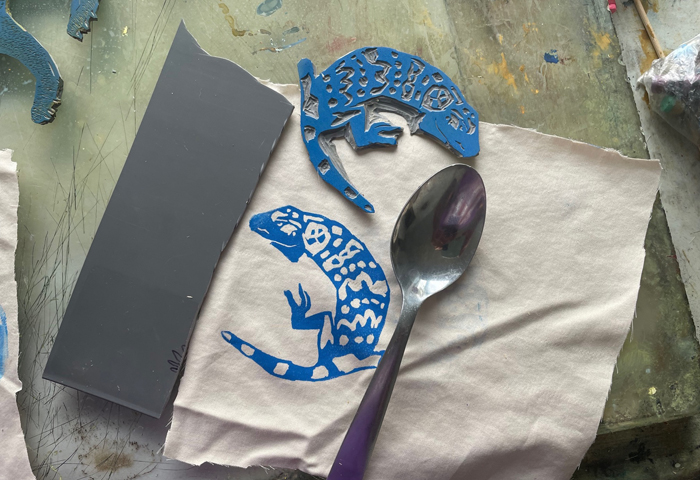 Sorry, this class has been cancelled.
Time and date: October 25; 10 am – 1 pm
Registration deadline: Oct 22
Explore relief printmaking on fabric. Create original designs and learn the process of carving linoleum using the tools and water-based ink. The instructor will also have finished linocuts that can be incorporated into the work. Students are welcome to bring their own fabric to work with, and images can be abstract or figurative. Cindi will demonstrate how to use the tools, roll out ink, and print on the fabric and reveal how to create a random vs. structured pattern with the linocut images. GAAC will have fabric and paper for experimenting with student prints.
Cindi Ford received her BA from Michigan State University in Art Education. In 2006 Ford received her MFA in printmaking at Kendall School of Art and Design and was awarded a fellowship scholarship. Many competitions throughout Michigan have recognized her work. Ford also has won numerous awards at the local, national and international level. Her work has been included in shows in Michigan, Indiana, Florida, New York, Connecticut, Rhode Island, Pennsylvania, North Dakota, Japan, and South Korea. Recently she was accepted into The Society of Graphic Artists in New York. Cindi was an adjunct professor at Kendall School of Art and Design. In 2017 she moved to her cottage on the Bayou of Torch Lake to pursue a full-time career as an artist. cindiford.com
Minimum Enrollment: Glen Arbor Arts Center reserves the right to cancel any class or multi-day, sequential-day workshop that does not meet its minimum student enrollment prior to the first class session. If a class is cancelled by GAAC for lack of enrollment, GAAC will offer a full refund to the student in the manner in which tuition was paid (Cash payments will be refunded by check). Please be aware that GAAC is not responsible for losses incurred due to housing, travel or other arrangements.
Requests for cancellation by the student at least seven (7) days prior to the first day of class will be honored (minus a $20 processing fee). NO REFUNDS will be given for a student cancellation made less than seven (7) days in advance of the day of the class.
COVID-RELATED UPDATES TO 2021 PROGRAMS AS OF August 25, 2021
To ensure the safety of our students and staff, we have implemented new procedures for our 2021 programs, to mitigate the spread of COVID and still allow participants to have a wonderful time creating art.
Class sizes will be limited to 12 persons or less for outdoor programs and 8 or less for indoor programs.
All students must wear face coverings inside the center when social distancing isn't possible.
Students and staff will wash and sanitize hands frequently throughout the day.
Common areas and touched surfaces will be sanitized regularly.
To keep pace with the evolving conditions related to the pandemic, any new policies or procedures for classes will be communicated by September 15, 2021.