Pottery on the Wheel Session 3
---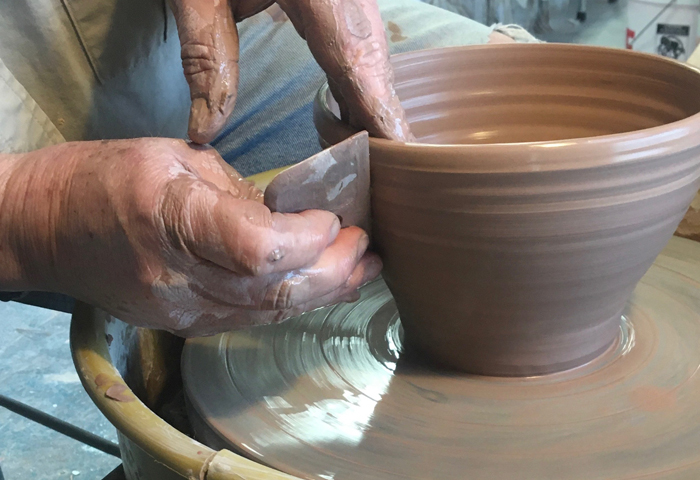 Dates: (4) Wednesdays; September 13, 20 & 27; October 4
Time: 6 – 9 pm
Registration Deadline: September 10
Learn and practice wedging, centering, throwing, and trimming basic forms. Enjoy one-on-one interaction as you learn the skills needed to become comfortable working on the potter's wheel. In addition, the class will include the basics of decorating, glazing, and firing finished work. Open Studio is included in this class.
John Huston is the GAAC Potter-in-Residence at Thoreson Farm. A potter since 1973, John studied in Ohio and Japan and started Platte River Pottery in Benzie County in 1978. In addition, he and his wife, Amy Stevens, own and operate Glen Lake Artists Gallery in Glen Arbor. When not working at Thoreson Farm, John works from his Studio overlooking Sanford Lake near Lake Ann Village.
Web address: instagram.com/thoresonfarmpottery
Please bring a notebook and pen/pencil. Other supplies are furnished. Please wear work clothes.
COVID-RELATED UPDATES TO 2023 PROGRAMS AS OF 12/20/2022
To ensure the safety of our students and Staff, we have implemented new procedures for our 2022 programs to mitigate the spread of COVID and still allow participants to have a wonderful time creating art.
Class sizes will be limited to 12 persons for indoor programs and 16 outdoor programs
All students who have symptoms of respiratory or gastrointestinal infections, such as cough, fever, sore throat, vomiting, or diarrhea, should stay home and not attend class.
Students and Staff will wash and sanitize hands frequently throughout the day.
Staff will sanitize common areas and touch surfaces regularly.
We have optimized our indoor ventilation system to reduce the risk of germs and contaminants spreading through the air.
If Leelanau County COVID-related cases are designated high risk, students and visitors must wear a face mask to prevent transmission.
To keep pace with the evolving conditions related to the pandemic, Staff will inform the GAAC's new policies or procedures before the start of the course.