Plein Air Weekend: Paint Out and Sale
---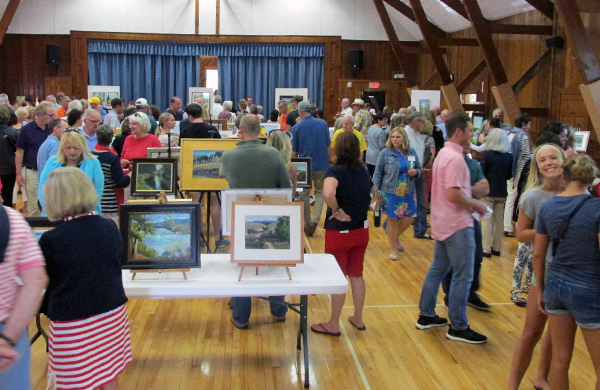 The Glen Arbor Arts Center's 10th annual Plein Air Weekend culminates with the main event, the Paint Out event and sale on Saturday, August 4.
Sixty-five artists vied early to be included in this all-day painting event. Typically, on-line registration opens and closes in 90 minutes in March. Registered artists spend the day painting iconic views of the area and the day's paintings are then returned to the Glen Arbor Town Hall, 6394 W. Western Avenue/M-22.
The evening viewing and sale runs from 5:30 – 7:30 pm.  The paintings are complemented by an appetizer/wine reception. Over 100 works of art will be exhibited, and offered for sale on a first-come basis (at the sound of the gong at 5:45). Frankfort studio artist Ellie Harold will judge and award cash prizes for the best paintings. A People's Choice Award will also be given.
The 10th anniversary Paint Out will celebrate the artists and art lovers who have made this event one of the largest in the state with refreshments provided by Riverfront Pizza & Deli, Anderson's Market, and the Leelanau Peninsula Vintners.
Admission includes one glass of wine for adults 21 and over and specialty appetizers. Additional wine tickets sold at the door.
Reception and Sale Admission
⋅ Advance purchase: $15/person by August 1.  Please purchase below.  Your name will be on will call list at the door.
⋅ Purchase at the door: $20/person
⋅ Children: no advance purchase necessary. Under 9 free. $10 ages 10-15.
Information for artists: click here