Plein Air to Studio
---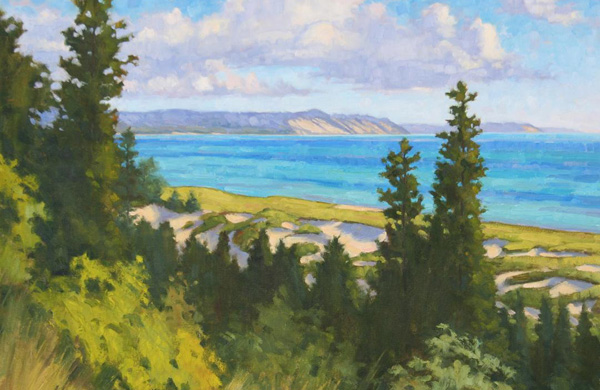 June 26 – 27: Develop your plein air study into a larger, finished painting with this 2 day class. Work on location to capture a scene with small, quick, studies, learn the steps for taking your plein air work into the studio and developing a larger finished painting. David will do demonstrations and coach you through the process.
For students intermediate to advanced. Some experience with painting outside or in studio necessary.
[tabby title="Instructor Bio"] After a career in graphic design and illustration, David Westerfield returned to his love of fine art. He paints both in the studio and on location, regularly traveling to favorite spots along the shore and in the dunes. He participates in several plein air events every year and is represented by galleries in Michigan and Hawaii.
Thursday, June 27, Time: 9 am – 2 pm
[tabby title="Supply List"] portable easel
palette
palette knife
brushes—a range of sizes, prefer bristle brushes
paints (oil or acrylic), some suggested colors: Titanium white, Cadmium yellow (light or medium), Yellow ochre, Cadmium red (light or medium), Alizarin Crimson, Ultramarine blue, Cobalt blue, Pthalo blue, Sap green, any others you like (just be sure to have white, yellow, red, and blue).
mineral spirits/brush washer container (water for acrylics)
paper towels / rags
painting surfaces:  Stretched canvas, canvas panels, gessoed wood panels (suggested sizes 8" x 10" / 9" x 12" for plein air, 12" x 16" / 16" x 20" for studio)
[tabby title="Refund Policy"] We understand that your plans might change. If they do, notify the GAAC office as soon as possible. Requests for cancellation by the student at least thirty (30) days prior to the first day of the workshop will be honored (minus a $20 processing fee). NO REFUNDS will be given for a student cancellation made less than thirty (30) days prior to the first day of the workshop. [tabbyending]