Plein Air Painting Workshop
---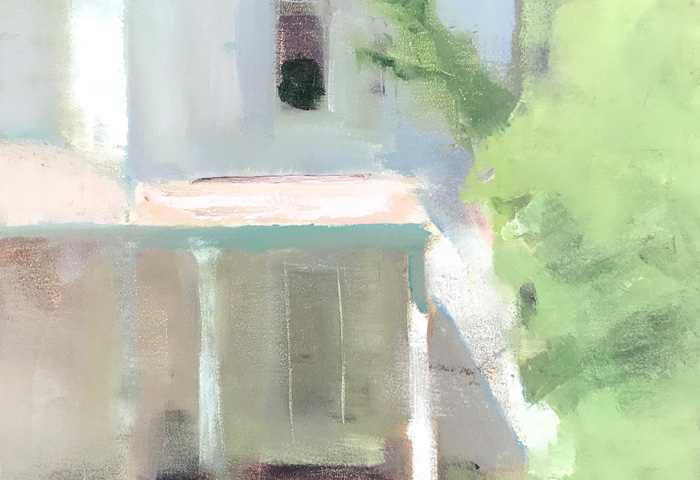 Date: September 12, 13, 14, 15 and 16
Time: 10 am – 5 pm (roughly)
Registration Deadline: September 9
Location: Start at GAAC / locations TBD
This guided immersive workshop invites painters to experience painting outdoors in and around Glen Arbor. We will discuss methods for choosing a painting site, organizing what we see into interesting compositions, active looking, and creating color harmony, among other topics. Every day painting outside encourages growth as a painter.
We will discuss specific methods for effectively choosing a painting site, organizing the majesty of what we see into interesting compositions, and creating color harmony, among other topics. We will work to develop much-needed technical skills required for responsive painting on location but will also discuss equally important aspects of painting such as mindset, expectations, and active looking.
Our days will include:
-Live painting demos
-Discussion
-Ample time to paint
-Individual guidance and feedback
-Connection with like-minded artists
Come prepared to work on two paintings each day – one in the morning and one in the afternoon. Every day spent painting outside is an opportunity for growth as a painter, even if it doesn't result in a wholly successful painting.
Tracy Everly is a pathbreaking painter. She has been painting outdoors for more than 20 years. In her landscape paintings, she shows the viewer a reality in process, happening before their eyes. Light shifts and wind moves in her work. This involves the viewer in experiencing the painting and its subject, instead of merely looking at it. In the past ten years, she has exhibited in over 46 shows across the U.S. and has won multiple awards in juried competitions.
Everly's fierce determination and love of painting has guided her education, including study with painters and classes at the Pennsylvania Academy of the Fine Arts.
Her teaching objective is to create a positive environment, empowering students to take risks, ask questions and pursue their individual artistic path. Her method involves sharing aspects of her own artistic process, aiming to help students build tangible foundational skills and to offer guidance about materials. She also focuses on mindset and thought process as important aspects of creating art. www.tracyeverly.com
These are the materials I typically use. You don't need to purchase all of them. Use what you have and use this as a guide if you want to try something new.
PIGMENTS
(Warm; Opaque Yellow)
Cadmium yellow medium
(Warm; Opaque Red)
Cadmium red light
(Warm; Transparent yellow)
Transparent earth yellow
(Warm; Transparent red)
Transparent earth red or transparent oxide red
(Warm; Transparent green)
Sap green
(Cool; Transparent blue)
French ultramarine
(Cool; Transparent red)
Alizarin crimson or alizarin permanent
(Cool; Transparent Green)
Phthalo green or viridian green
(Cool; White)
Titanium white
(Warm; Opaque yellow)
Yellow ochre
(Cool; Opaque purple)
Violet grey (Daler-Rowney Georgian)
MEDIUM
I am currently using refined linseed oil sparingly. I sometimes use Liquin or Gamblin's Solvent-Free Gel medium.
SOLVENT
Odorless mineral spirits (such as Gamsol)
BRUSHES/KNIVES
I use a range of different brushes, most of them bristle brushes. I tend towards larger sizes in flats and brights. It's best to have a range from small to large and in different shapes. I like large brushes that are 1-inch wide or larger (I use a flat Blick Mega brush). I also like Blick Scholastic Wonder White brushes.
PALETTE/PAINTING KNIVES
RGM Palette knife no. 80. You can use any painting or palette knife you like. I recommend a steel palette knife, 3″ trowel with a deep bend in the handle.
PALETTE
12×16 gray palette. This can be gray-toned wood, glass or disposable gray palette.
SUPPORTS/CANVAS
I typically like to paint on a rigid, non-absorbent support.
PORTABLE EASEL SETUP
I have a variety of easels that I use, depending on the circumstances. I often use a tripod-based setup using a Leder Easel. This requires me to also bring a board on which to set my palette.
I also use a tripod-based Coulter Easel. French easels are OK, but they tend to be heavy.
WET PAINTING CARRIER
You will need a way to carry and protect your wet paintings. I use Panel Pak carriers. There are other carriers you can purchase, or you can use a home-made solution.
DRAWING MATERIALS
Some form of drawing materials – just a sketchpad and a pencil will do. I typically use Nitram charcoal, and/or a soft Blackwing Matte graphite pencil, and/or a hard graphite pencil. The drawing we may do is in preparation for painting, so nothing elaborate is needed.
MISCELLANEOUS
• Rags or paper towels
• Trash bags
• Viewfinder
• ValueComp – available from artworkessentials.com.
• Baby wipes- I use these quite a lot. They're great for wiping off your hands while you work.
• Ettore squeegee
• Sherrill Mud Tool
• Brayer
• Personal comfort items, such as water, food, sunscreen, and bug spray
SOME SPECIFIC RESOURCES
Palettes
https://newwaveart.com/collections/posh-wood-table-top-palettes/products/posh-wood-table-top-palettes?variant=48914318996
https://www.amazon.com/gp/product/B00OPE897I/ref=ppx_yo_dt_b_asin_title_o08_s00?ie=UTF8&psc=1
https://www.dickblick.com/products/richeson-grey-matters-paper-palette/?clickTracking=true&wmcp=pla&wmcid=items&wmckw=03092-2506&gclid=CjwKCAiA57D_BRAZEiwAZcfCxZgt0cmM5b26XJxXv0uo5BOsled8zi6pAN_9S5028jXu8QaeGO8CPRoCshIQAvD_BwE
Blick Wonder White Synthetic Brushes
https://www.dickblick.com/products/blick-scholastic-wonder-white-brushes/
Sherrill Mud Tool – Red color, very soft
https://www.amazon.com/Sherrill-Mudtools-Polymer-Pottery-Artists/dp/B0052F6MFK/ref=sr_1_1?keywords=mud+tool+sherrill&qid=1580391598&sr=8-1
Speedball soft rubber brayer, 2-inch
https://www.amazon.com/Speedball-Products-41271-Rubber-Brayer/dp/B000BYVMEI/ref=sr_1_18?crid=24PX4ON385SPS&keywords=brayer+rollers&qid=1580391787&sprefix=brayer%2Caps%2C160&sr=8-18
Ettore solid brass squeegee, 6-inch
https://www.amazon.com/Ettore-Solid-Brass-Squeegee-6-Inch/dp/B000BQL3U4/ref=sr_1_5?crid=T4PEULV3G9FH&keywords=ettore+squeegee+6+inch&qid=1580391315&sprefix=ettore+sque%2Caps%2C-1&sr=8-5
Holbein MX Series Painting Knives – MX No. 2
https://www.amazon.com/gp/product/B006WNHCA0/ref=ppx_yo_dt_b_search_asin_title?ie=UTF8&psc=1
Traditional RGM Palette Knife 80
https://www.jacksonsart.com/en-us/r-g-m-palette-couteau-no-80
ValueComp (value finder)
http://artworkessentials.com/products/accessories/accessories.htm
LederEasel
https://www.ledereasel.com/#/
Coulter Easel
https://www.artboxandpanel.com/collections/16679
Panel Pak wet panel carriers
https://www.panelpak.com/
COVID-RELATED UPDATES TO 2022 PROGRAMS AS OF December, 2021
To ensure the safety of our students and staff, we have implemented new procedures for our 2022 programs, to mitigate the spread of COVID and still allow participants to have a wonderful time creating art.
Class sizes will be limited to 12 persons or less for outdoor programs and 8 or less for indoor programs.
All students must wear face coverings inside the center.
Students and staff will wash and sanitize hands frequently throughout the day.
Common areas and touched surfaces will be sanitized regularly.
To keep pace with the evolving conditions related to the pandemic, any new policies or procedures for classes will be communicated.