Plein Air at the Farm
---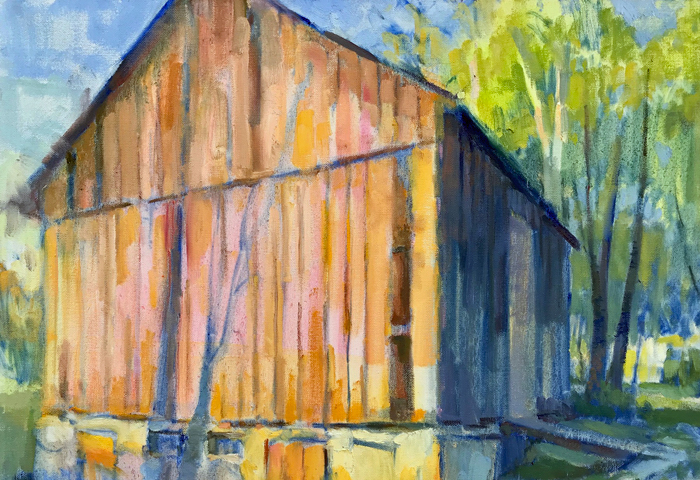 Date & Time: July 7, 8, and 9; 9 am-1 pm
Registration Deadline: July 4
Experience Plein Air oil painting in the historic Port Oneida landscape. This workshop will introduce Plein Air techniques and teach strategies for depicting natural and rural landscapes. Subjects of study will include atmosphere, trees, terrain, sky, water, beach, and farm buildings. Each class will begin with a painting demonstration followed by group painting and individual instruction. We will paint in the rain or shine! All experience levels are welcome; only a positive attitude is required.
Joseph Lombardo received an MFA in painting from Bowling Green State University and studied landscape painting at the Burren College of Art in Ireland. He has served as Artist in Residence at Buffalo National River, Hot Springs National Park, and Glen Arbor Art Association. He is a two-time "Best in Show" winner at the Ohio Plein Air Competition. Lombardo teaches painting workshops internationally, and he is an Adjunct Instructor at the Columbus College of Art and Design. Lombardo is represented by Art Access Gallery in Columbus, Ohio, and he exhibits annually at Center Gallery in Glen Arbor, Michigan. www.josephlombardo.weebly.com
Oil or paints – students must have these colors
Titanium white
Cadmium yellow deep
Lemon yellow
Ultramarine blue
Phthalo blue
Quinacridone magenta
Cadmium red light
Burnt sienna
Other Supplies:
Turpenoid or Gamsol odorless turpentine substitute
Portable palette
Portable easel
Paint rags
Variety of oil painting brushes- have at least these three small round- for detail- #2 or 4 sizes can vary depending on the brand (about 1/8″ diameter)
Filbert Size #6 (approximately 1/2″ wide)
Large flat (approximately 1″ wide)
variety of other brushes within this range is helpful
Palette knife
Two small jars with lid for solvents
At least three painting surfaces: 5×7, 8×10, 9×12, or 11×14
Recommended Supplies:
Small folding chair
Hat
Sunblock
Water bottle
Painting gloves
*This is a list of recommended supplies we can work with what you have.
Dress appropriately for the weather.
Minimum Enrollment
Glen Arbor Arts Center reserves the right to cancel any class or multi-day, sequential-day workshop that does not meet its minimum student enrollment prior to the first class session. If a class is cancelled by GAAC for lack of enrollment, GAAC will offer a full refund to the student in the manner in which tuition was paid (Cash payments will be refunded by check). Please be aware that GAAC is not responsible for losses incurred due to housing, travel or other arrangements.
Refunds
Requests for cancellation by the student at least fourteen (14) days prior to the first day of class will be honored (minus a $20 processing fee). NO REFUNDS will be given for a student cancellation made less than fourteen (14) days in advance of the day of the class.
COVID-RELATED UPDATES TO 2021 PROGRAMS AS OF MAY 18, 2021
To ensure the safety of our students and staff, we have implemented new procedures for our 2021 programs, to mitigate the spread of COVID and still allow participants to have a wonderful time creating art.
Class sizes will be limited to 12 persons or less for outdoor programs and 8 or less for indoor programs.
All students must wear face coverings inside the center when social distancing isn't possible.
Students and staff will wash and sanitize hands frequently throughout the day.
Common areas and touched surfaces will be sanitized regularly.
To keep pace with the evolving conditions related to the pandemic, any new policies or procedures for classes will be communicated by June 15, 2021.