Personal Power Tools
---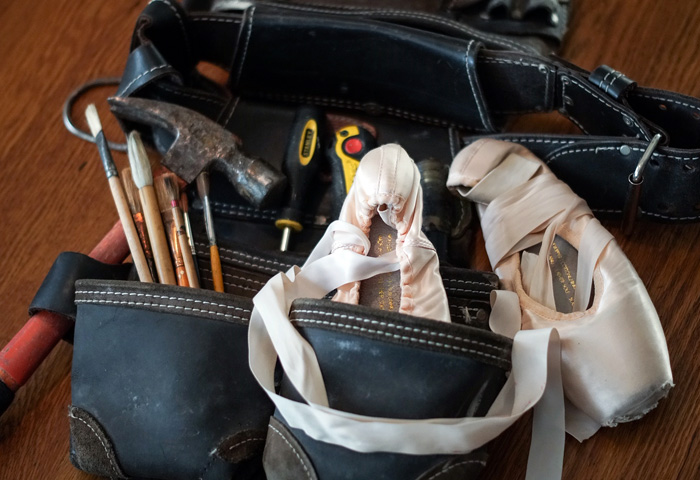 Sorry, this class has been cancelled.
Date: October 14.
Sculptor Louise Nevelson said, "It's a hell of a thing to be born, and if you're born, you're at least entitled to yourself." What is personal power? When do you feel most powerful? Least powerful? What kind of power do men have? Women have? Who's the most powerful person you know? What would you do if you had more power? How do the arts give us tools for expressing our power? In this workshop, we'll discuss all these things and more—and we'll visit the "Power Tools" exhibition to discover how it enlarges our vision of personal power. Finally, we'll write a brief essay to capture these important ideas.
Karen Anderson is a writer who lives and works in Traverse City, Michigan. She was a columnist for the Traverse City Record-Eagle for 30 years and published two collections. Since 2005, she has contributed weekly essays to Interlochen Public Radio. An illustrated collection of her essays published in 2017, Gradual Clearing: Weather Reports from the Heart. 
Karen has a master's degree in English Literature from the University of Michigan and is retired from Northwestern Michigan College where she was the director of marketing and public relations. She enjoys camping, canoeing, reading, writing, listening, learning. interlochenpublicradio.org
Students will need something to write with such as a notebook and pen or laptop.
I will provide handouts that offer material for discussion.
Refunds: Requests for cancellation at least seven (7) days prior to the first day of class will be honored (minus a $20 processing fee). NO REFUNDS will be given for a student cancellation made less than seven (7) days in advance of the day of the class.
Minimum Enrollment: Glen Arbor Arts Center Arts Center reserves the right to cancel any class or multi-day, sequential-day workshop that does not meet its minimum student enrollment prior to the first class session (30 days prior for multi-day workshops). If a class is cancelled by GAAC for lack of enrollment, GAAC will offer a full refund to the student in the manner in which tuition was paid (Cash payments will be refunded by check). Please be aware that GAAC is not responsible for losses incurred due to housing, travel or other arrangements.