Pastels Plein Air – Art of Observation
---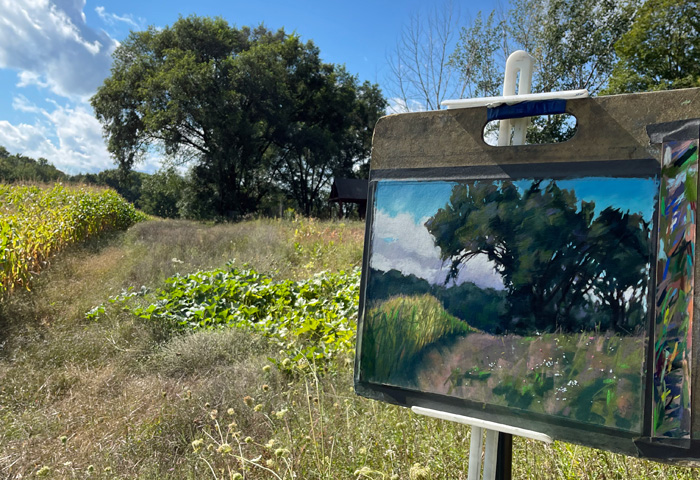 Date: August 10 and 11
Time: 10am – 3 pm
Registration Deadline: August 7
Location: Thoreson Farm
Pastels are made for plein air. The immediacy of the medium makes them perfect for field work with no drying time or color mixing. The class will concentrate on the process of being out of doors, choosing a subject, different materials (paper, different sticks etc.). Each day will start with a demo and individual instruction. A framing demo on the final day. Students will complete a plein air piece each day with a group critique. Instructor will provide a few of her favorite pastels and 2 varieties of paper to try.
Louise won her first art competition at the tender age of 14 when her teacher secretly submitted an acrylic monochrome of a master painting. She won her first ribbon! That early success set her on a journey that continues today.
Her life has taken many twists and turns. There was a stint in the military-then married with children, and finally, Louise returned to school for a Fine Arts degree. A move to northern Michigan and a workshop with Bill Hosner, opened up a love of the medium of soft pastel and a discipline of painting from life.
Louise has found success as a plein air painter, winning many regional and national awards. She is a member of the Great Lakes Pastel Society and the Pastel Society of America and her work can be found in both private and corporate collections. Her time in Florida painting with the country's largest plein air group, The Light Chasers, affords her year round access to the outdoors. Passing her knowledge to a new generation of pastel painters in workshops or one on one is a joy for Louise, like the time seeking out that perfect spot to paint.
Louise Pond, born 1956, Detroit, Michigan. LouisePondFineArt.com
The more pastels the better. I purchased through Dick Blick (Rembrandt 90 sticks, a good beginners set) and Terry Ludwigs Best Loved Basic set of 14. A la carte is dark green, purple and red in Sennelier. A receptacle for your pastels/
* A few hard Nupastels for laying in drawing.
*Sturdy plein air easel
*Kneaded eraser, sketch book and sketching pencils
*Masking tape
*Baby wipes (fragrance free)
*Masonite board (Lowe's or Home Depot approx. 18×18, they will cut for you)
*Used toothbrush
*Small plastic folding table (Ace Hardware)
*Apron or paint shirt
*Hat, sunscreen and water
*Bag lunch
**Instructor will supply a few favorite pastels and 2 different paper types
COVID-RELATED UPDATES TO 2022 PROGRAMS AS OF December, 2021
To ensure the safety of our students and staff, we have implemented new procedures for our 2022 programs, to mitigate the spread of COVID and still allow participants to have a wonderful time creating art.
Class sizes will be limited to 12 persons or less for outdoor programs and 8 or less for indoor programs.
All students must wear face coverings inside the center.
Students and staff will wash and sanitize hands frequently throughout the day.
Common areas and touched surfaces will be sanitized regularly.
To keep pace with the evolving conditions related to the pandemic, any new policies or procedures for classes will be communicated.