Outdoor Gallery Exhibit: Debra Howard
---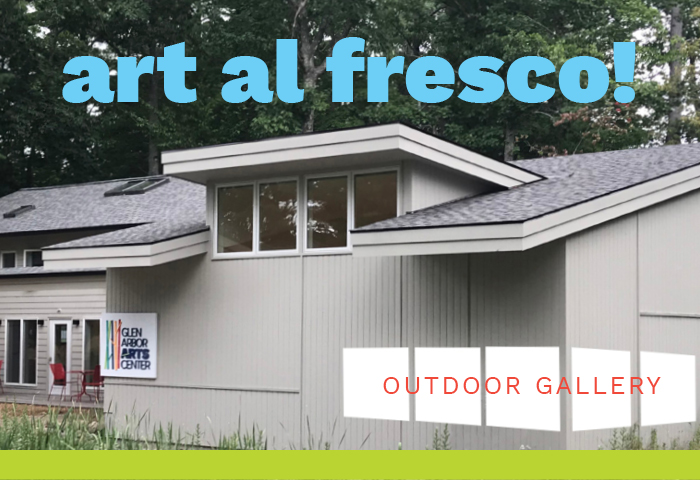 Northern Michigan and Maryland painter Debra Howard's work has been chosen for the Glen Arbor Arts Center's 2023-24 Outdoor Gallery exhibition. Debra's paintings were reproduced on five, 5-foot-square, weather-resistant aluminum panels created by Image 360 of Traverse City, Michigan. The panels are installed on the GAAC's south and west exteriors walls.
"My work is a direct reflection of my life experience," Debra said. "I spent my childhood in Miami, surrounded by light, intense color, patterns, heat and contrasts. I travelled for over 27 years on my sailboat, Ling Ling, exploring Hawaii, Mexico, Central America, the Caribbean and the Bahamas. Surrounded by clear turquoises, corals, blues, rain forest greens, deep shadows and brilliant highlights, I began to paint."
Howard paints in oil, and her signature palette is unusual, she said. "I use three colors plus white, relying on classical color theory to produce an exciting and pleasing color harmony. My work showcases strong design and a rhythmic quality, influenced by my early career as a designer and illustrator."
An avid plein air painter, Howard has participated in competitions in Maryland, Pennsylvania, New York, Michigan, Maine, Georgia, Delaware, New Jersey, Tennessee, Indiana, Texas, Louisiana, and Virginia, including prestigious events such as Easton Plein Air, Paint Annapolis, en Plein Air Texas and Bath County Plein Air. She is a Signature Member of the Mid-Atlantic Plein Air Painters Association (MAPAPA), Glen Arbor Arts Center, the Somerset County Arts Council, and other northern Michigan arts organizations.
Debra's work has been featured in the American Scholar Magazine and Plein Air Magazine as well as numerous newspaper articles. She travels through the year, pulling a small RV trailer, competing in plein air competitions around the country, and offering art workshops and artists talks.
"Painting is a method of communicating that relies on a series of decisions. My goal is to share the wonder that I experienced," she said. "I am looking at a three-dimensional world, ever changing, and yet my means of communicating is confined to a small two-dimensional panel. I use brushstrokes that express, color that is enhanced, and rhythm and patterns to draw in the viewer."
Debra is a United States Coast Guard US Merchant Marine officer and holds a 100-ton Masters license. "I think what translates [from her Coast Guard experience] into my paintings is the confidence to paint the way I want to paint, and not be concerned that it doesn't look like the traditional approach," she said. "It took a tremendous amount of strength and bucking the tide to be a woman captain, and that belief in myself has definitely found its way into my work." Debra resides in Omena, Michigan, and on the Eastern Shore of Maryland. Read more about her here: https://www.artistdebrahoward.com/
The GAAC's Outdoor Gallery competition began in 2020. The gallery is a venue for the exhibition of visual art, and features the original work of a single artist. The selected work communicates the GAAC's spirit with fresh originality, and the panels are viewable at any time. The winning artist receives a $500 prize from the Amy L. Clark-Carels Family Fund. The competition takes place annually. The metal panels were installed in May, and remain on display through April 2024. In April 2024, the GAAC will offer the 2023-24 panels in an online auction.
The 2023-2024 Outdoor Gallery exhibition panels will be created from Debra Howard's paintings. Each painting will be slightly cropped to fit the 5ft x 5ft format of the panels.