Outdoor Gallery Exhibit: Carrie Hensel
---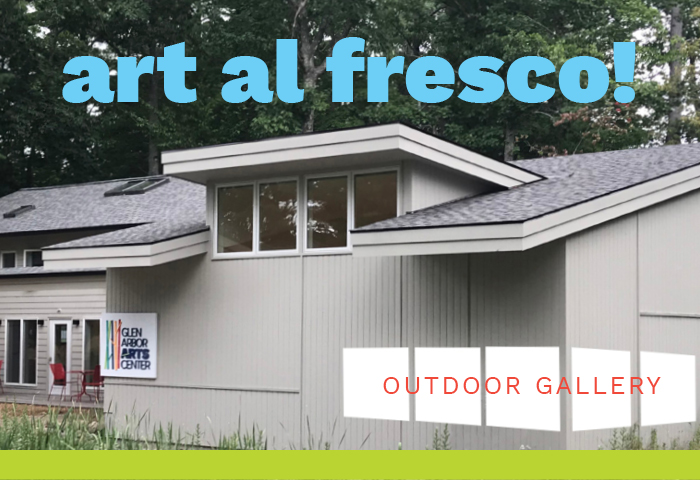 Ann Arbor artist Carrie Hensel's impressionistic landscape paintings are the 2022-23 Outdoor Gallery installation at the Glen Arbor Arts Center. Carrie's paintings were reproduced on five, 5-foot-square, weather-resistant aluminum panels created by Image360 of Traverse City. The panels are installed on the GAAC's south and west exterior walls.
The GAAC's Outdoor Gallery competition takes place annually. Carrie's work was selected from a field of 16 applicants. The metal panels were installed in May and remain on display through April 2023.
Carrie's paintings express a joyful, vibrant celebration of the interconnectedness of the natural world she's spent so much of her life observing with curiosity and wonder. Sunlight and color take center stage with this work. An avid hiker, forager, and wild-experience seeker, Carrie's acrylic paintings are inspired by her adventures across Michigan. She spends countless hours outdoors, hunting for morels, chanterelles, "and other miraculous finds."
"With both foraging and painting, I feel called to search, root around, feel afraid that I'm lost in a deep thicket, and then by some intuition find a new way out and bring a treasure with me," she said.
Carrie took inspiration from scenes in northern Michigan for the five paintings in this year's Outdoor Gallery exhibition. "I chose paintings that represent the color and feeling of each season," she said. For example, one painting captures pine trees on a steely blue winter day. Another depicts an early spring evening when the sun sank behind a stand of white pines and lit up the branches like stained glass. Still, another catches the movement of the yellow leaves of birch trees fluttering against an autumn sky.
Carrie takes photos on her outings and uses them as inspiration in the studio. Her goal is to use quick, bold strokes and a vivid color palette to catch the light capture a moment in time.
"I love to push color beyond what our eyes see, yet still within the realm of possibility, so when people see the work, they say, 'Oh, that looks a little bit magical, but I think I've been there before,' "she said. "And I love to paint my favorite moments – like a spring morning in a Trillium-filled woods near Arcadia or a twilight fishing expedition on Bear Lake – because these are their favorite moments for so many Michiganders."
Growing up on a small farm in Midland, Michigan, Carrie roamed the woods, orchards, and fields. Carrie earned a BFA (Painting & Drawing) from the University of Michigan and a BS in Chemistry from Albion College. Collectors have purchased her work across the US and UK. It has been shown at galleries in the Ann Arbor area, including a solo exhibit at the University of Michigan Comprehensive Cancer Center.
The GAAC's Outdoor Gallery competitions began in 2020. The gallery is a venue for the exhibition of visual art and features the original work of a single artist. The selected work communicates the GAAC's spirit with fresh originality, and the panels are viewable at any time. The winning artist receives a $500 prize from the Amy L. Clark-Carels Family Fund. In April 2023, the GAAC will offer the 2022-23 panels in an online auction.
Read more about Carrie Hensel here: https://www.dailypaintworks.com/artists/carrie-hensel-12693
The 2022-2023 Outdoor Gallery exhibition panels will be created from Carrie Hensel's paintings. Each painting will be slightly cropped to fit the 5ft x 5ft format of the panels.