Night Photography at Sleeping Bear Dunes National Lakeshore
---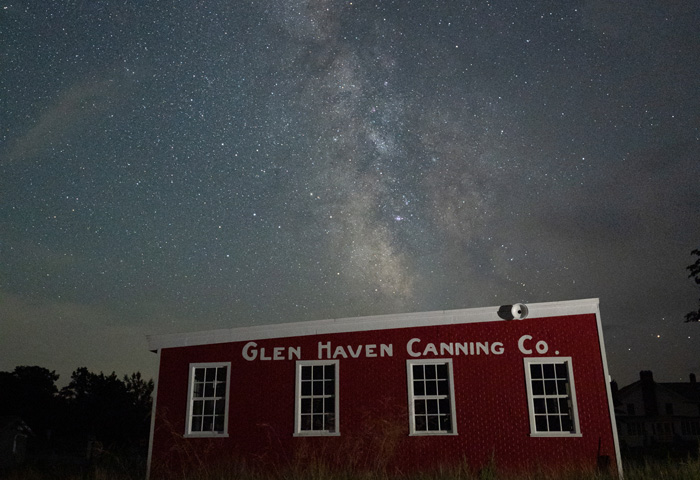 Date: August 29 – September 2
Time: Approx 4 hours/day in the classroom + outdoors/onsite 7 pm – nightfall
Registration Deadline: August 28
Location: GAAC and Sleeping Bear Dunes National Lakeshore
Itinerary: An email will be sent to registered students one week prior to the start date with more detail.

National Parks at Night Co-Founder Gabriel Biderman will be returning to the Glen Arbor Arts Center to help you level up your night photography skills. What better place to capture pristine dark skies, moonlit dunes, and millions of stars reflecting in the water than Sleeping Bear National Lakeshore? We've chosen these specific dates because there will be little to no moon. Sleeping Bear National Seashore has minimal light pollution and offers the perfect foreground of rolling sand dunes, picturesque farmsteads, historic buildings, and pristine dark skies. Each night we'll explore a different area, all with generous room to create and spread out. Gabriel will provide in-the-field instruction and techniques to give you more confidence. Come Seize the Night with us!
During this four-night/ five-day workshop, we will build a solid foundation for seeing and expanding your night vision.
Class Topics: How to determine the best exposures; photographing star points, star trails, and the Milky Way; when to use light painting; and of course, processing and getting the most out of your images. You will be encouraged to step outside your comfort zone and test the limits of what you and your camera can do.
Skill Level: Open to all who understand the basic principles of photography and are familiar with a DSLR or Mirrorless camera. Night photography experience is helpful but not necessary.
Gabriel Biderman is a travel and self-taught fine art photographer who has been exploring night topography for over 20 years. Gabe loves the "process" of creating the image and pushing the limits to what we can do when capturing time for seconds, minutes, or even hours! He is well versed in both film and digital and enjoys blending the surreal look of the night to enhance historic and urban landscapes. Gabriel is also the co-founder of National Parks at Night, the leading source for night photography education and hands-on workshops since 2015. He has also been teaching night photography online with Creative Live and B&H and schools (Rocky Mountain School of Photography, Maine Media Workshops) and at various trade shows and institutions since 2008. Gabriel's work has been exhibited in New York, London, San Francisco, and Hawaii, and he is the author (with Tim Cooper) of Night Photography – From Snapshots to Great Shots.  Nationalparksatnight.com
Full Frame DSLR or Mirrorless camera. Fast wide lens (f/2.8 or faster), Tripod, and cable release.  A full list of suggested gear will be sent after registration—no student fees.
A National Park pass is required while inside the Sleeping Bear Dunes National Lakeshore. More information can be found at nps.gov.
COVID-RELATED UPDATES TO 2022 PROGRAMS AS OF December, 2021
To ensure the safety of our students and staff, we have implemented new procedures for our 2022 programs, to mitigate the spread of COVID and still allow participants to have a wonderful time creating art.
Class sizes will be limited to 12 persons or less for outdoor programs and 8 or less for indoor programs.
All students must wear face coverings inside the center.
Students and staff will wash and sanitize hands frequently throughout the day.
Common areas and touched surfaces will be sanitized regularly.
To keep pace with the evolving conditions related to the pandemic, any new policies or procedures for classes will be communicated.