Night Photography at Sleeping Bear Dunes National Lakeshore
---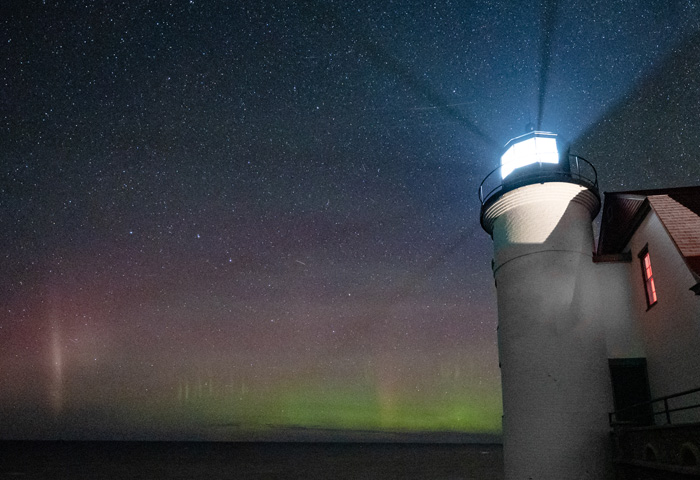 Date: 5 sessions: Saturday-Wednesday; September 2-6
Time: 12 pm – 4 pm classroom; 7 pm – 1 am shooting
Registration Deadline: August 30
National Parks at Night Co-Founder Gabriel Biderman is returning to the Glen Arbor Arts Center to help you level up your night photography skills. What better place to capture pristine dark skies, moonlit dunes, and millions of stars reflecting in the water than Sleeping Bear National Lakeshore? We've chosen these specific dates to capture a variety of nocturnal images –the Milky Way, Star Trails, Light Painting, and maybe even the Northern Lights!
Sleeping Bear Dunes, National Lakeshore, has minimal light pollution and offers the perfect foreground of rolling dunes, picturesque farmsteads, historic buildings, and pristine dark skies. We'll explore a different area each night, with generous room to create and spread out. Gabriel will provide in-the-field instruction and techniques to give you more confidence, so come "Seize the Night" with us!
During this four-night/ five-day workshop, we will build a solid foundation for seeing and expanding your night vision.
Class Topics:
How to determine the best exposures
photographing star points, star trails, and the Milky Way
when to use light painting
processing and getting the most out of your images
You will be encouraged to step outside your comfort zone and test the limits of what you and your camera can do. Itinerary: An email will be sent to registered students one week before the start date with more details.
Skill Level: Beginner to Intermediate (open to all who understand the basic principles of photography and are familiar with a DSLR or mirrorless camera. Night photography experience is helpful but not necessary.)
Gabriel Biderman is a travel and self-taught fine art photographer who has been exploring night topography for over 20 years. Gabe loves the "process" of creating the image and pushing the limits to what we can do when capturing time for seconds, minutes, or even hours! He is well versed in film and digital and enjoys blending the surreal look of the night to enhance historic and urban landscapes. Gabriel is also the co-founder of National Parks at Night, the leading source for night photography education and hands-on workshops since 2015.
Website: nationalparksatnight.com
Full Frame DSLR or Mirrorless camera. Fast wide lens (f/2.8 or faster), Tripod, and cable release. A complete list of suggested gear will be sent after registration—no student fees.
COVID-RELATED UPDATES TO 2023 PROGRAMS AS OF 12/20/2022
To ensure the safety of our students and Staff, we have implemented new procedures for our 2022 programs to mitigate the spread of COVID and still allow participants to have a wonderful time creating art.
Class sizes will be limited to 12 persons for indoor programs and 16 outdoor programs
All students who have symptoms of respiratory or gastrointestinal infections, such as cough, fever, sore throat, vomiting, or diarrhea, should stay home and not attend class.
Students and Staff will wash and sanitize hands frequently throughout the day.
Staff will sanitize common areas and touch surfaces regularly.
We have optimized our indoor ventilation system to reduce the risk of germs and contaminants spreading through the air.
If Leelanau County COVID-related cases are designated high risk, students and visitors must wear a face mask to prevent transmission.
To keep pace with the evolving conditions related to the pandemic, Staff will inform the GAAC's new policies or procedures before the start of the course.