Mono Printing with the Gelli Plate
---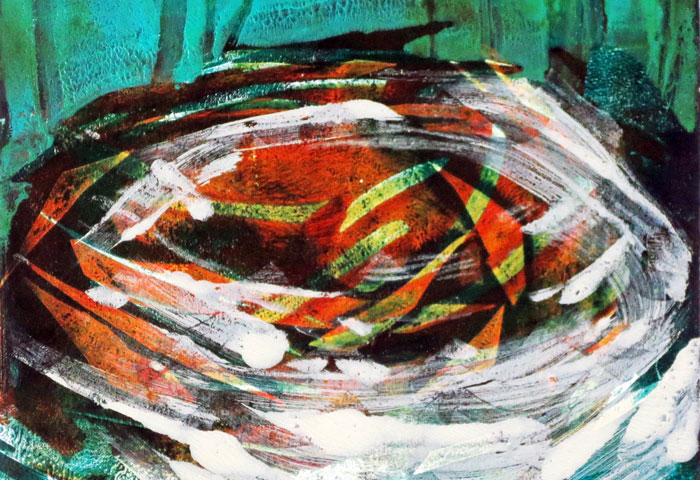 Date: July 20.
Note: This class will be held outside and has a rain makeup date of July 27.
Have you heard of the Gelli Plate? It's a permanent durable gel plate that can be used to make prints over and over again without the need for a press. Participants will be introduced to some amazing techniques that will keep them happily printing for hours and hours. We'll be using our regular acrylic paint and stamps and stencils to make one of a kind artworks. Did I mention that it's quite addictive? The prints created can be used for collage, or be beautiful works of art on their own. No experience necessary! Come on and join the fun!
Lauren Everett Finn has been a Michigander for most of her life. She graduated from Michigan State with an advertising degree but found her love of drawing through her first job, doing drafting for Caterpillar Tractor. From there, she is largely self-taught through her enormous art book library and the occasional class or workshop. Lauren's award-winning and versatile work collected throughout the United States and internationally. Lauren is a popular instructor, teaching classes in northwest Michigan and metro Detroit. She is represented by Synchronicity Gallery in Glen Arbor and Tvedten Fine Art in Harbor Springs. LaurenEverettFinn.com
A Gelli Plate: Check at local art supply stores or gelliarts.com
The 5×5 or 6×6 inch size is a good one to start with if you are not sure.
8×10 inches is a very versatile size and my favorite.
A brayer
Acrylic paint: Instructor will be using golden fluid acrylic but any kind works.
A couple of paint brushes
Paper toweling or baby wipes (to clean the plate)
Squirt bottle (water)
Scissors
Paper- 25 to 50 sheets. White card stock works great- regular printer paper is fine too but might wrinkle a bit.
Optional-a few stamps or stencils- any texture making stuff (Instructor will bring a variety of things to try)
Wear old clothes
Bring a lunch
Refunds: Requests for cancellation at least seven (7) days prior to the first day of class will be honored (minus a $20 processing fee). NO REFUNDS will be given for a student cancellation made less than seven (7) days in advance of the day of the class.
Minimum Enrollment: Glen Arbor Arts Center Arts Center reserves the right to cancel any class or multi-day, sequential-day workshop that does not meet its minimum student enrollment prior to the first class session (30 days prior for multi-day workshops). If a class is cancelled by GAAC for lack of enrollment, GAAC will offer a full refund to the student in the manner in which tuition was paid (Cash payments will be refunded by check). Please be aware that GAAC is not responsible for losses incurred due to housing, travel or other arrangements.