Marks on Clay: Slip, Sgraffito, Overglaze, and More
---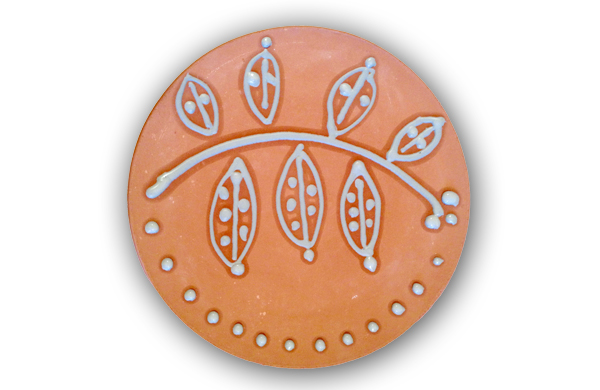 June 21 – 23, 2019: Expand your pottery decoration beyond simply glazing in this 3 day hands-on workshop with the GAAC's resident potter John Huston. You will learn traditional methods of using colored slips for sgraffito and slip trailing, oxide mixes for over/underglaze brushwork, and carving and impressing techniques. Pots will be provided for decorating and you may bring two or three of your own bisque fired pieces for the brushwork portion of the workshop.
The beautiful setting of Thoreson Farm will inspire you to experiment with new skills in a supportive and relaxed atmosphere.
An opening reception and slide show will be held on Friday, June 21. The price for the workshop includes lunch on Saturday, June 22 and Sunday, June 23. An optional dinner is available on Saturday.
[tabby title="Instructor Bio"]
John Huston has been making pots since 1973. He has studied and worked with local potters in Morioka, Japan and produced early 19th century American reproductions at Conner Prairie Pioneer Settlement near Indianapolis, Indiana. He has lived and worked in Northern Michigan for over forty years. John started Platte River Pottery in 1980 and was a familiar exhibitor at local art fairs for over a decade. He presently works out of his home studio overlooking Sanford Lake in Benzie County. He and his wife, Amy Stevens, own and operate the Glen Lake Artists Gallery in Glen Arbor, Michigan where they met in 1990. John has been the Potter-in-Residence for the Glen Arbor Arts Center since 2005.
John's work is centered on functional pottery, mostly wheel-thrown, though he occasionally creates decorative and architectural pieces. Each piece is unique but not one-of-a-kind, as they are made by hand in a production setting. Surface decoration is often applied with a Sumi brush. In both form and function, his work reveals the strong influences of both traditional Japanese and early American pottery.
John's philosophical view is as simple and straight-forward as his pots. "As a potter, it is always wonderful and humbling to pick up a pot that is 100, 1,000, or even 5,000 years old and find the fingerprints of the person who made it. That connection to all those who have done this before me is a real anchor in these times that seem to place great value on instant gratification and constant change above a shared constancy. Making pots is slow, deliberate work that requires a quiet centeredness."
John's work is available at the Glen Lake Artists Gallery in Glen Arbor.
Web address: instagram.com/thoresonfarmpottery
[tabby title="Dates/Times"] Friday, June 21, Time: 6:30-8pm, Opening Reception and slide show
Saturday, June 22, Time: 9am-4pm (lunch included) optional dinner for participants
Sunday, June 23, Time: 9am-4pm (lunch included)
[tabby title="Supply List"] Notebook and pen/pencil, other supplies are furnished.
Bring your own tools if you have them.
Please wear old clothes and bring an old towel.
[tabby title="Refund Policy"] We understand that your plans might change. If they do, notify the GAAC office as soon as possible. Requests for cancellation by the student at least thirty (30) days prior to the first day of the workshop will be honored (minus a $20 processing fee). NO REFUNDS will be given for a student cancellation made less than thirty (30) days prior to the first day of the workshop. [tabbyending]