Introduction to Abstraction
---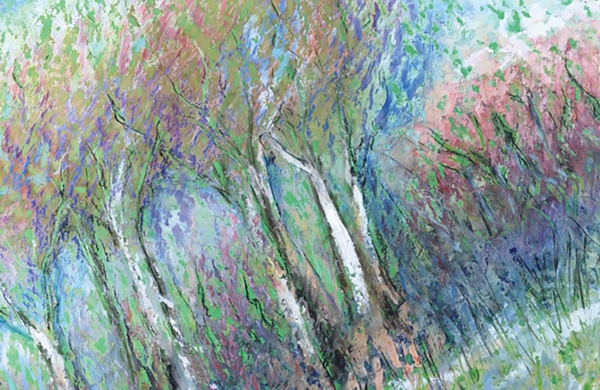 SORRY, THIS CLASS HAS BEEN CANCELLED
June 25 – 27: This 3 day class will guide you through the process of abstraction by referencing the work of famous abstract artists: Mondrian, Rothko, Klee, Miro, Picasso and Kandinsky and by using the Elements and Principles of Art.  You will then create studies of both representational and non-representational abstraction based on these artist's works. You will explore other influences in learning how to "abstract" by listening to a variety of music and painting what you hear.  Let yourself be influenced, as Kandinsky was, by the nuances of the rhythm, repetition, movement, harmony and balance; some of the same compositional principles shared by both music and art.
Next, you will work with images and words from magazines to create a "Visual Poem" by arranging the images chosen into non-representational compositions blended with paints or pastels. You will create a poem or prose as part of the visual story to convey a message.  A true mixed media abstraction!
[tabby title="Instructor Bio"] Mary Kay Burbee holds a BA in Fine Art from Indiana University, Bloomington. She has worked as an interior designer, art gallery manager, exhibiting artist and art educator having taught both children and adults. Her work has exhibited in juried shows and exhibitions throughout the Midwest and East Coast. Mary Kay works in oil and soft pastel, mixed media, watercolor, as well as, fiber arts and beading. Her work can be found in private collections throughout the country. [tabby title="Dates/Times"] Tuesday, June 25, Time: 9 am – 12 pm
Wednesday, June 26 Time: 9 am – 12 pm
Thursday, June 27, Time: 9 am – 12 pm
[tabby title="Supply List"] Since abstraction uses various mediums or a combination of mixed media, students should bring their favorite medium(s) to work with including paper or canvas. The instructor will bring additional media to experiment with and share.  Bring easels if you like to work with them.
Please bring water based paints only.
[tabby title="Refund Policy"] We understand that your plans might change. If they do, notify the GAAC office as soon as possible. Requests for cancellation by the student at least thirty (30) days prior to the first day of the workshop will be honored (minus a $20 processing fee). NO REFUNDS will be given for a student cancellation made less than thirty (30) days prior to the first day of the workshop. [tabbyending]