Introducing Color
---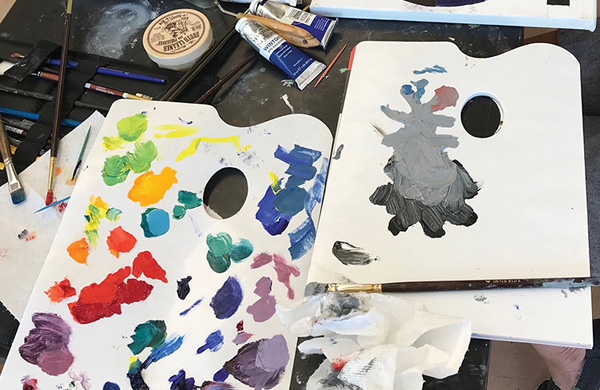 July 8 – 9: In this 2 day introductory workshop students will learn to see, identify, and mix color. Students will gain an understanding of the language of color and how to control their mixing palette. We will create a comprehensive color wheel focused on the three attributes of color: value, hue, and intensity. After finishing this comprehensive color class students will have the ability to name and directly mix any desired color. We will learn to see the colorful world around us in terms of the twelve hues. We will discuss color theory and how to apply what we have learned from the wheel to the creation of paintings. Each class will begin with mixing demonstrations followed by group painting and individual instruction.
Please Note: if you are working in oil you will be outside and if you are working in acrylic you will be inside the classroom.
[tabby title="Instructor Bio"] Joseph Lombardo received a MFA in painting from Bowling Green State University and studied landscape painting at the Burren College of Art in Ireland. He has served as artist-in-residence
at
Buffalo National River, Hot Springs National Park, and at the Glen Arbor Art Association. He is a two-time 'Best in Show' winner at the Ohio Plein Air Competition. Lombardo teaches painting workshops internationally and he is an Adjunct Instructor at the Columbus College of Art and Design. Lombardo is represented by Art Access Gallery in Columbus, Ohio and he exhibits annually at Center Gallery in Glen Arbor, Michigan.
Tuesday, July 9, Time: 9 am – 1 pm
[tabby title="Supply List"]
Oil or Acrylic paints:
Titanium white
Burnt sienna
Quinacridone magenta (or Alizarin Crimson)
Cadmium red light
Cadmium yellow deep
Lemon yellow
Phthalo blue
Ultramarine blue
Other supplies:
Turpenoid or Gamsol odorless turpentine substitute (oil painters only)
Portable palette
Portable easel
Paint rags
Variety of brushes
Palette knife
2 small jars with lids for solvents or water
1 painting surface 9×12 or 11×14
Recommended supplies:
Painting gloves
*This is a list of recommended supplies; we can work with what you have.
[tabby title="Refund Policy"] We understand that your plans might change. If they do, notify the GAAC office as soon as possible. Requests for cancellation by the student at least thirty (30) days prior to the first day of the workshop will be honored (minus a $20 processing fee). NO REFUNDS will be given for a student cancellation made less than thirty (30) days prior to the first day of the workshop. [tabbyending]