Intro to Painting through Direct Observation
---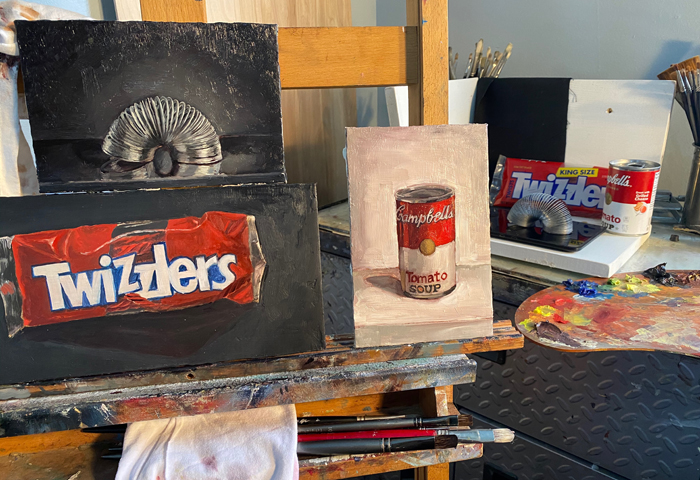 Dates: Sundays, February 7, 14, 21, 28 & March 7
Time: 3-4:30 pm
Registration deadline: Friday, February 5 @ 12pm
If you have always wanted to explore painting but were overwhelmed by the variety of colors, brushes, and mediums available to you, or you just want a refresher on the fundamentals of color theory and composition, this class will help you develop strategies to have success with painting. Experiment with the richness of colors and how light works, strategies for handling and controlling paint as a medium, and the fundamentals of composition. Working through direct observational painting and from photographic references, we will build a foundation for creating successful and beautiful paintings.
Format: via Zoom (a zoom link will be sent a few days before the first class).
Dylan Evans Weiler holds a BFA from Northern Michigan University and earned his Master of Fine Arts from Laguna College of Art and Design. His primary focus during his studies was on painting, but his practice includes a diverse set of media including printmaking, historical photographic process, sound, and installation to name a few. He brings together traditional and new media to create a more engaging experience for the audience.
Website: http://www.dylanevansweiler.com
Supply List for artists interested in oils (if you'd like a supply list for acrylics or watercolor, please contact the instructor at [email protected])
Canvas— prestretched 18×24 inch or similar size
Brushes, 2  Hog Bristol bush, Filbert size 2, 4 (¼ inch and ½ inch) sable, rounds or flats
Gamsol odorless mineral spirits, Silicoil brush cleaning tank
Artist palette (glass, wood or disposable wax paper)
Oil paint — find some colors you're interested in, make sure you have the primaries of white, black, yellow, red and blue (yellow, magenta, and cyan)
Oil painting medium—we have many choices here.  Pick one or two that catch your eye. (A basic like linseed oil and something new like Galkyd Medium)
Requests for cancellation by the student at least fourteen (14) days prior to the first day of the workshop will be honored (minus a $20 processing fee). NO REFUNDS will be given for a student cancellation made less than fourteen (14) days prior to the first day of the workshop.