Intentional Mending
---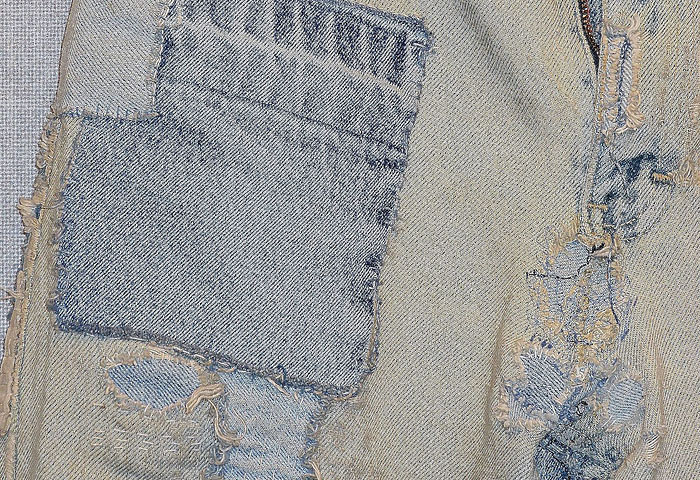 Date: February 15.
Class Goal
To discover how the functional task of mending becomes a vehicle for creative discovery.
Class Description
Many a pair of beloved jeans have been relegated to the trash heap after the inevitable rips-and-tears begin. Intentional Mending takes the basic, functional task of repairing blown-out knees and frayed waistbands, and turns mending into a vehicle for creative discovery. Using simple tools — needle and thread — and scrap materials, students will explore how to patch a pair of jeans, and how patching and hand stitching are a form of creative expression, quiet meditation, and a source of fundamental joy.
Intention Mending will explore:
The philosophy of Mendfulness
The Slow Fashion movement
The Japanese tradition of boro mending and patchwork
The work of contemporary, studio artists whose practices are based on mending
Sarah Bearup-Neal received a BFA from Michigan State University, and has maintained an active, studio art/fiber art practice since 1999. Sarah is the GAAC's Exhibitions Program manager, and curates its installations and programs. www.sarahbearupneal.com
Saturday, February 15, 10 am – 1 pm
A variety of sharp sewing needles with large eye
Pincushion or pin box
Medium-to-long straight pins
Thimble
Fabric scissors
Embroidery floss, darning thread, or something comparable [as a point of reference, #8 darning thread is a good size to shoot for, available on-line or at local craft stores]
A pair of beloved, worn, ripped jeans
Scrap denim or canvas fabric
Brown Bag lunch or snack
Instructor will provide other scrap fabric, a variety of patching threads, iron, ironing board, and real-life examples of intentionally-mended clothing from her own wardrobe.
Refunds: Requests for cancellation at least seven (7) days prior to the first day of class will be honored (minus a $20 processing fee). NO REFUNDS will be given for a student cancellation made less than seven (7) days in advance of the day of the class.
Minimum Enrollment: Glen Arbor Arts Center Arts Center reserves the right to cancel any class or multi-day, sequential-day workshop that does not meet its minimum student enrollment prior to the first class session (30 days prior for multi-day workshops). If a class is cancelled by GAAC for lack of enrollment, GAAC will offer a full refund to the student in the manner in which tuition was paid (Cash payments will be refunded by check). Please be aware that GAAC is not responsible for losses incurred due to housing, travel or other arrangements.