Inside the Artist Studio: Portrait from Life Demo
---
Date: Thursday, Jan 21
Time: 7 pm
In this demo, figure painter Dylan Evans Weiler will paint a live model and explain his process for both a single-day and multi-session portrait painting in oils. Working in a controlled studio setting he will explain lighting, posing, and composing a portrait. He will explain his color palette and color choices and the strategies he uses to create a successful likeness. The artist will allow time throughout for Q & A.
Format: Live Zoom (a Zoom link will be sent two days before the demo class)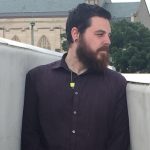 Dylan Evans Weiler holds a BFA from Northern Michigan University and earned his Master of Fine Arts from Laguna College of Art and Design. His primary focus during his studies was on painting, but his practice includes a diverse set of media including printmaking, historical photographic process, sound and installation to name a few. He brings together traditional and new media to create a more engaging experience for the audience.
Requests for cancellation by the student at least seven (7) days prior to the first day of class will be honored (minus a $20 processing fee). NO REFUNDS will be given for a student cancellation made less than seven (7) days in advance of the day of the class.