Illustration: Cartooning to Comics
---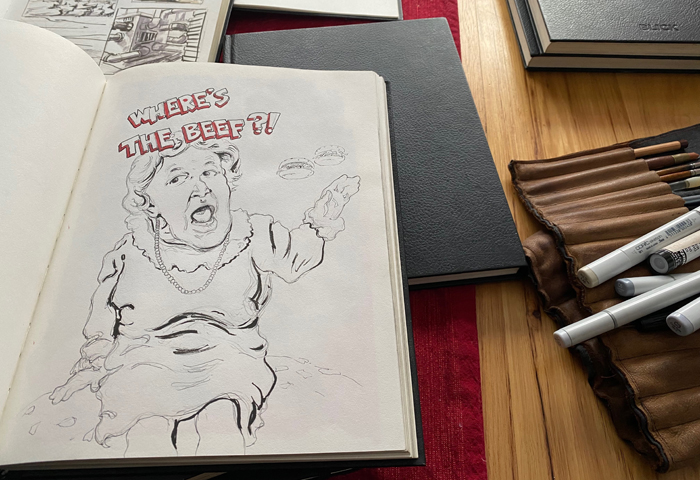 Dates: Sundays, February 14, 21, 28 and March 7
Time: 1-2:30 pm
Registration deadline: Friday, February 12 @ 12pm

Develop the ability to see and translate faces and figures into characters. If you have an interest in Illustration or comic arts and have wanted to draw your own characters. we will explore what makes a character successful and how you can refine your visual style. This class will explore drawing character through both observational and imaginative processes to establish a practice you can continue to explore to create your own stories.
Format: Live Zoom (a Zoom link will be sent a few days before the first class).
Dylan Evans Weiler holds a BFA from Northern Michigan University and earned his Master of Fine Arts from Laguna College of Art and Design. His primary focus during his studies was on painting, but his practice includes a diverse set of media including printmaking, historical photographic process, sound and installation to name just few. He brings together traditional and new media to create a more engaging experience for the audience.
Website: http://www.dylanevansweiler.com
Paper: Sketchbook 8 1/2 x 11 inch optional larger drawing paper or Bristol board (11×17)
Pencils: drawing pencils – recommend a set of Staedleter 6B to 4H
Kneaded Eraser or vinyl eraser
Pens: felt tip pens like micron or Prismacolor, brush tip or chisel tip are great too or fine tip black ink technical pen (like Pilot or Micron)
Optional recommendations:
Drawing board—about 20 x 26 inches (Can be a piece of hardboard, smooth on one side).
Drafting or blue Painter's tape
Copic/Prismacolor markers.
Requests for cancellation by the student at least thirty (30) days prior to the first day of the workshop will be honored (minus a $20 processing fee). NO REFUNDS will be given for a student cancellation made less than thirty (30) days prior to the first day of the workshop.