How I Paint – A Process for Creative Flow and Authentic Style
---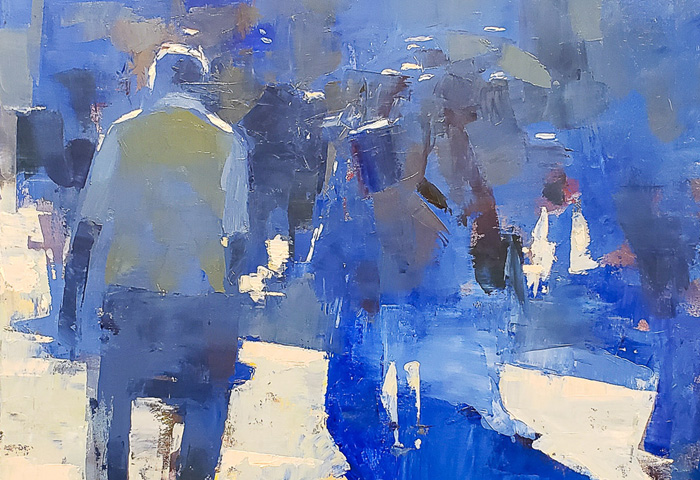 Date: Monday – Thursday; June 5 – 8
Time: 9:30 am – 4 pm (with a break for lunch)
Registration Deadline: June 2
Get to the heart of your authentic work and your style by:
Doing a lot of work (quantity over quality) — This quiets the internal critic and gives our unique ideas a chance to breathe.
Having a deadline: The best antidote to procrastination and "waiting for inspiration." — Focusing on process over product: See the first two points.
Topics will include
• Contour line drawing and memory
• Value and its use in design and pattern
• Use of the Notan in design and creative thought (improvisation) -Solid drawing and values as a basis for "looseness."
• Keeping things simple
• Subjective color
• Breakdown and building back up of the image
Other topics that will be addressed and discussed
Interaction
• Initial observations of the subject.
• Drawing the subject – a lot, in different media and techniques (contour line, value plans, notans, etc.)
• Consideration of the major design qualities of the subject, i.e., formal design aspects (line, shape, value, color, texture, edges, etc.)
Idea
• "What about this subject makes me want to paint it?" -"What is my intent?"
• " What feeling do I want the final piece to convey?"
• "What is the creative concept?"
Process
• Play and improvisation
• How will the painting (or drawing) be approached, technically? -Blocking in
• Breaking down and building back up
• Abstraction
• Edges
Notes
Patrick will do a demo of a painting for the first half of each day, with the students painting the second half of the day. Attendees may use oils or acrylics – however, please note that while we are indoors at the GAAC classroom, only water-based paints may be used.
Patrick Lee takes a uniquely creative approach to make paintings in the Studio and Plein air. He draws heavily on intuition and imagination to develop an image, often altering the drawing, color, and spatial relationships to create a mood and express a feeling about the subject. This approach often leads to strong elements of abstraction and suggestion in his work, rather than explicit detail–allowing the viewer to connect with each piece in their way, inviting them to let their imaginations make personal associations and connections.
Bachelor of Fine Arts, Edinboro University of Pennsylvania
Patrick Lee, American painter, b. 1972.
website: patrickleefineart.com
Students should bring their photos or still-life objects to work from unless we are doing Plein air work.
Suggested Colors. Please make any substitutions you like.
All colors are by Gamblin
• Alizarin Crimson (or Quinacridone Red)
• Cadmium Red Deep
• Cadmium Orange
• Cadmium Yellow Deep
• Cadmium Lemon
• Titanium/Zinc White (mixture)
• Phthalo Blue
• Ultramarine Blue
Other colors – students are not required to buy or use:
• Yellow Ochre
• Viridian
• Cadmium Red Light
• Ivory Black
ALSO RECOMMENDED: Small tube of black acrylic paint for notan studies and improvisations
Brushes/Knives
Patrick primarily uses flat, and eggbert bristle brushes for brushwork (sizes 4-12 for flats, sizes 4-8 for eggberts. Please bring the brushes you normally use; these brushes are not required. Small (cheap) round watercolor or oil brushes (sable type) for small detail marks. Inexpensive hardware store type "chip" brushes (at Lowes or Home Depot, beige wooden handle), 2-4″ size (not required).
Medium
Liquin (Standard formula)
Palette
Patrick uses a wood (Plein air) or glass (Studio) palette, but any type will do. You need ample room to mix a lot of paint. If you don't use a wooden palette (or glass), please bring a Masterson disposable palette/container with a lid.
Metal Palette Knife
A large teardrop-shaped metal painting knife (offset handle) for painting and scraping. A metal palette knife (straight handle) for mixing color and palette cleaning
Other
• Metal Brush tank with locking lid for odorless mineral spirits –
• Viva Paper towels
• Any apron or rubber gloves that you want if desired/needed
• Sketchbook and soft pencils (2B, 4B, 6B)
Collage Materials
• Glue stick(s) and Mod Podge (good stuff!) or acrylic medium (Matte) or something similar.
• Magazines, newspapers, old sheet music, photos, pieces of old paintings, various colored construction papers, and card stocks – anything you can collage with!
COVID-RELATED UPDATES TO 2023 PROGRAMS AS OF 12/20/2022
To ensure the safety of our students and Staff, we have implemented new procedures for our 2022 programs to mitigate the spread of COVID and still allow participants to have a wonderful time creating art.
Class sizes will be limited to 12 persons for indoor programs and 16 outdoor programs
All students who have symptoms of respiratory or gastrointestinal infections, such as cough, fever, sore throat, vomiting, or diarrhea, should stay home and not attend class.
Students and Staff will wash and sanitize hands frequently throughout the day.
Staff will sanitize common areas and touch surfaces regularly.
We have optimized our indoor ventilation system to reduce the risk of germs and contaminants spreading through the air.
If Leelanau County COVID-related cases are designated high risk, students and visitors must wear a face mask to prevent transmission.
To keep pace with the evolving conditions related to the pandemic, Staff will inform the GAAC's new policies or procedures before the start of the course.