Have Pencil, Will Travel
---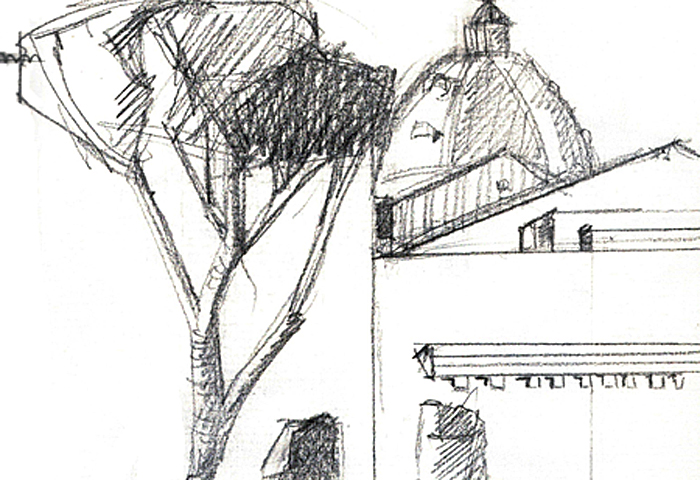 Date & Time: June 30, 9 am-2:30 pm (45-minute break for lunch)
Registration Deadline: June 27
Enjoy the outdoors more deeply by sketching—even if it's in your backyard. This one-day session will take place at two sites—one will focus on the outdoor urban environment and the other on the natural landscape. Participants will practice quick drawing techniques that include evaluating composition and value range. Various drawing materials and approaches will be explored. The class will begin with a presentation of sketch examples from history, as well as contemporary artists.
Joan Richmond, a graduate of the Art Academy of Cincinnati, holds an MFA from the University of Notre Dame, taught painting for ten years at Northwestern Michigan College, and instructs drawing and painting workshops. Richmond works in open air—Michigan, Ireland, Canada, Italy—and her studio in Traverse City. She exhibits regionally, is represented in Midwest corporate collections, and has served at several residencies, including visiting artists at the American Academy in Rome in the winter of 2015, 2016, and 2020. joanrichmondart.com
One Sketchbook (no smaller than 6 x 6″; no bigger than 8 x 12″, pencil (2B preferred but not required), pen (your preference), and an eraser.
The instructor will provide additional pencils, pens, viewfinders, small drawing boards, and pencil sharpeners.
We will be working outside. Please bring a hat; lightweight, portable, foldable camp chair, and sunscreen. We will break for lunch; please bring a sack lunch.
Minimum Enrollment
Glen Arbor Arts Center reserves the right to cancel any class or multi-day, sequential-day workshop that does not meet its minimum student enrollment prior to the first class session. If a class is cancelled by GAAC for lack of enrollment, GAAC will offer a full refund to the student in the manner in which tuition was paid (Cash payments will be refunded by check). Please be aware that GAAC is not responsible for losses incurred due to housing, travel or other arrangements.
Refunds
Requests for cancellation by the student at least seven (7) days prior to the first day of class will be honored (minus a $20 processing fee). NO REFUNDS will be given for a student cancellation made less than seven (7) days in advance of the day of the class.
COVID-RELATED UPDATES TO 2021 PROGRAMS AS OF MAY 18, 2021
To ensure the safety of our students and staff, we have implemented new procedures for our 2021 programs, to mitigate the spread of COVID and still allow participants to have a wonderful time creating art.
Class sizes will be limited to 12 persons or less for outdoor programs and 8 or less for indoor programs.
All students must wear face coverings inside the center when social distancing isn't possible.
Students and staff will wash and sanitize hands frequently throughout the day.
Common areas and touched surfaces will be sanitized regularly.
To keep pace with the evolving conditions related to the pandemic, any new policies or procedures for classes will be communicated by June 15, 2021.