Gnome Homes
---
Date & Time: July 22, 1:30-3:30pm
Registration Deadline: July 19
The forest is filled with gnomes, fairies, toads, and wood sprites—and they all love a fun home environment. Design a magical domed home, beginning with a slab of clay. We'll learn the basics of clay hand-building and add our touches — windows, chimneys, slides, and more! All pieces will be fired in the kiln and ready for pickup at GAAC in 2-3 weeks. Shipping arrangements can also be made.
Please contact the GAAC Education Manager for any questions or to be added to a waiting list if registration is sold out.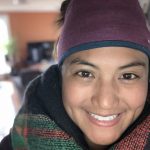 Jessica Vitale resides in Traverse City and teaches high school Spanish, media publications, and art at Suttons Bay Public Schools. Her artistic background concentrates on ceramic functional and non-functional work and mosaic design using recycled credit cards, gift cards, and hotel key cards. Her mosaic work focuses on the realities and hardships of achieving the "American dream." She loves incorporating other themes in her career, such as nature, balance, and awareness of mental and social issues.
Minimum Enrollment
Glen Arbor Arts Center reserves the right to cancel any class or multi-day, sequential-day workshop that does not meet its minimum student enrollment prior to the first class session. If a class is cancelled by GAAC for lack of enrollment, GAAC will offer a full refund to the student in the manner in which tuition was paid (Cash payments will be refunded by check). Please be aware that GAAC is not responsible for losses incurred due to housing, travel or other arrangements.
Refunds
Requests for cancellation by the student at least seven (7) days prior to the first day of class will be honored (minus a $20 processing fee). NO REFUNDS will be given for a student cancellation made less than seven (7) days in advance of the day of the class.
COVID-RELATED UPDATES TO 2021 PROGRAMS AS OF MAY 18, 2021
To ensure the safety of our students and staff, we have implemented new procedures for our 2021 programs, to mitigate the spread of COVID and still allow participants to have a wonderful time creating art.
Class sizes will be limited to 12 persons or less for outdoor programs and 8 or less for indoor programs.
All students must wear face coverings inside the center when social distancing isn't possible.
Students and staff will wash and sanitize hands frequently throughout the day.
Common areas and touched surfaces will be sanitized regularly.
To keep pace with the evolving conditions related to the pandemic, any new policies or procedures for classes will be communicated by June 15, 2021.