Found Objects Stamped Paper Cancelled
---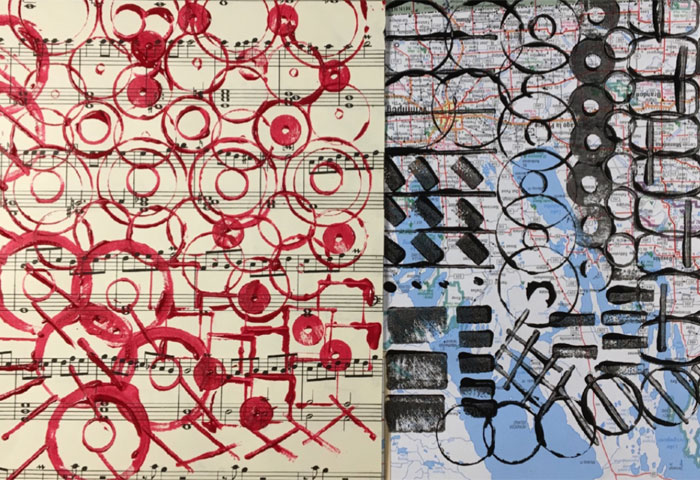 Due to the corona virus, this class has been cancelled.
Date: May 14.
Whether you are just beginning to explore your creative life or have already developed a love of paint and paper, you will enjoy this fast-paced class. Using a variety of found and recycled objects, participants will learn basic stamping techniques to embellish found papers, such as book pages, sheet music, and maps. Explore pattern making and produce visually interesting papers that can be used in collage, card making, mixed media, and more.
Amy Stevens is an arts educator and mixed-media artist with 30+ years of experience, working from her studio overlooking Sanford Lake in Benzie County. She has taught art and English, K-12 and adults, in both public and private school settings, retiring in 2011 after 23 years of teaching literature and composition at Interlochen Arts Academy. She and her husband, John Huston, own and operate Glen Lake Artists Gallery in Glen Arbor. Amy holds a Bachelor of Philosophy and a Masters of Education from Grand Valley State University.
3-5 bottles of liquid acrylic craft paint (one black)
1-2 half-inch flat paint brushes
Baby wipes
Paper towel
*Instructor will provide found objects and found papers
Refunds: Requests for cancellation at least seven (7) days prior to the first day of class will be honored (minus a $20 processing fee). NO REFUNDS will be given for a student cancellation made less than seven (7) days in advance of the day of the class.
Minimum Enrollment: Glen Arbor Arts Center Arts Center reserves the right to cancel any class or multi-day, sequential-day workshop that does not meet its minimum student enrollment prior to the first class session (30 days prior for multi-day workshops). If a class is cancelled by GAAC for lack of enrollment, GAAC will offer a full refund to the student in the manner in which tuition was paid (Cash payments will be refunded by check). Please be aware that GAAC is not responsible for losses incurred due to housing, travel or other arrangements.