Exploring Assemblage with Found Objects
---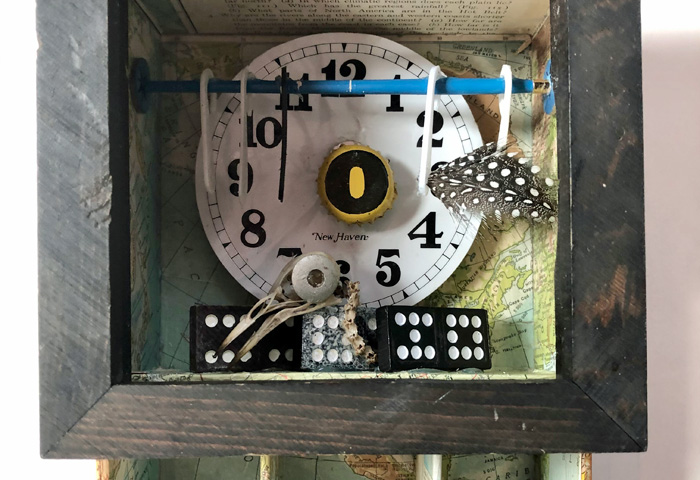 Date: Saturday, June 17
Time: 10 am – 3 pm
Registration Deadline: June 16
In this class, you will use an Altoid tin and a cigar box to create an assemblage. Combine found objects: ephemera, trinkets, and "good junk" to create a whimsical piece, a themed piece, or perhaps a family heirloom. Try out a new genre.
As a child growing up on a farm in Kingsley, Michigan, I wanted to be an artist with Disney and entered the "You can Draw" contests advertised in magazines. But I also wanted to be a teacher. So after graduating from Kingsley Area Schools, I attended Northwestern Michigan College in Traverse City, MI, and graduated from Central Michigan University with a BS in Elementary Education. Beth taught at Buckley Community Schools for over 30 years, with my last three years teaching art. As an assemblage artist, she aims to recycle the mundane to inspire new insights.
Website: bethbynumartist.blogspot.com
Altoid tin
Sm. picture frames with glass that will fit over the Altoid tin
Cigar box or another wooden box
Glue E-6000 (small tube at Family Dollar)
Pliers to cut wire
Hammer
Paper towel
Ruler
Paper cutter (optional)
Water containers
Scissors
Assorted acrylic paints
Paint brushes
Keepsakes- trinkets, buttons, old jewelry, beads, ribbon, lace
Paper- photos, maps, newspaper, vintage stamps, movie tickets, scrapbook paper, children's art
Other stuff- marbles, small toys, doll parts, ruler, cloth tape measure, use your imagination
If you plan to use family photos and other personal papers, please make copies (quick print) in advance, and bring them to class
Wear work clothes and bring a lunch
COVID-RELATED UPDATES TO 2023 PROGRAMS AS OF 12/20/2022
To ensure the safety of our students and Staff, we have implemented new procedures for our 2022 programs to mitigate the spread of COVID and still allow participants to have a wonderful time creating art.
Class sizes will be limited to 12 persons for indoor programs and 16 outdoor programs
All students who have symptoms of respiratory or gastrointestinal infections, such as cough, fever, sore throat, vomiting, or diarrhea, should stay home and not attend class.
Students and Staff will wash and sanitize hands frequently throughout the day.
Staff will sanitize common areas and touch surfaces regularly.
We have optimized our indoor ventilation system to reduce the risk of germs and contaminants spreading through the air.
If Leelanau County COVID-related cases are designated high risk, students and visitors must wear a face mask to prevent transmission.
To keep pace with the evolving conditions related to the pandemic, Staff will inform the GAAC's new policies or procedures before the start of the course.