Exhibit: Everyday Objects
---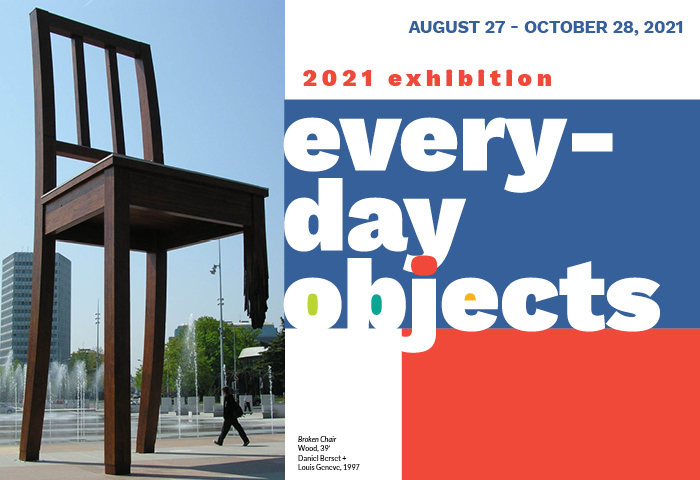 Western art before the 20th Century, primarily still life paintings, is filled with everyday objects. But in the 20th Century, things shifted. The Glen Arbor Arts Center's exhibition Everyday Objects explores this territory.
What happens when an artist gets her hands on a common object, and begins to reimagine it? In the process of transformation, the object may still look like the thing, but its functional purpose is no longer its prime reason for being. What are the aesthetic possibilities in mundane objects? Or, in the words of the late Hungarian-born visual artist Sari Dienes, "Bones, lint, Styrofoam, banana skins, the squishes and squashes found on the street: nothing is so humble that it cannot be made into art."

EVERYDAY OBJECTS Companion Programs
Explore the ideas behind this exhibition from other avenues: GAAC Gallery Manager Sarah Bearup-Neal is in conversation with three artists whose works are about, or built with familiar objects.
Creativity Q+A Video with Steve Palmer: Maker of Fish
As part of the GAAC's exhibition Everyday Objects, we're in conversation with Leelanau County artist Steve Palmer – maker of mixed media fish from found and antique objects. A former public school educator of 32 years, his fish offer very teachable moments about the connection between his use of things that might otherwise be discarded and the pollution of our waterways. https://www.running-dog-studio.com/
Creativity Q+A video with Michelle Stitzlein: The Art of Repurposing
Ohio artist Michelle Stitzlein is a creative force whose sculptures elevate familiar objects to a new level of art. As part of the GAAC's exhibition Everyday Objects, we talk with Michelle about using scavenged and collected objects – garden hoses, bottle caps, and piano keys – to name just a few of the multitude of 3D things that come together in compositions of great beauty and thought. [NOTE: At the end of this recorded conversation, it was incorrectly stated the Everyday Objects exhibition runs through August 19. The correct end date for the exhibition is October 28.]
Creativity Q+A interview with Lynne Rae Perkins: The Museum of Everything
Leelanau county artist and author Lynne Rae Perkins takes readers on an imagination-fueled journey through a special place, The Museum of Everything. The Newberry Medalist's newest book elevates common objects and occurrences through Perkins's imaginative dioramas and collages. This conversation is offered as part of the GAAC's Everyday Objects exhibition. https://lynnerae.com/
Lecture: 'Everyday Objects: Common Things, Uncommon Art'
The world is swimming in material goods – the stuff of landfills as well as the stuff of a rich body of work by visual artists. "Everyday Objects: Common Things, Uncommon Art" is a survey of work created during the 20th and 21st centuries from plumbing fixtures, shoes, and tires – among other things. This slide presentation is part of the Glen Arbor Arts Center's exhibition Everyday Objects. It is viewable online beginning September 15. $10 GAAC members, $15 nonmembers.