Drawing Fundamentals: Daytime Option
---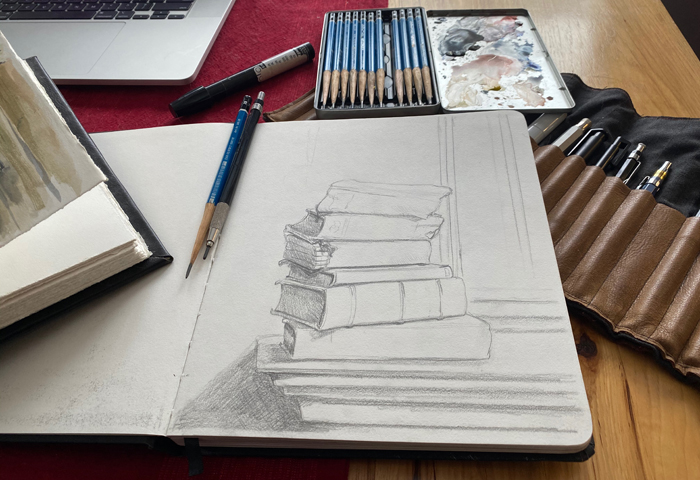 Sorry, this class has been cancelled.
Dates: Wednesdays January 20, 27 & Feb 3, 10, 17
Time: 11 am – 12:30 pm

Unravel the mystery of how to create a sketch (or at a minimum create doodles you can be proud of!). Explore the fundamental principles of drawing and develop strategies for overcoming the challenges artists face. From an exploration of multiple drawing materials, tools and techniques, to the principles of design and composition, we will uncover how to make drawing fun and successful.
Format: Live Zoom (day or evening option – please select when registering). A Zoom link will be sent a few days before the first class.
Dylan Evans Weiler holds a BFA from Northern Michigan University and earned his Master of Fine Arts from Laguna College of Art and Design. His primary focus during his studies was on painting, but his practice includes a diverse set of media including printmaking, historical photographic process, sound, and installation to name a few. He brings together traditional and new media to create a more engaging experience for the audience.
Website: http://www.dylanevansweiler.com
Paper: one pad of white drawing paper (at least 11 x 14 inches)
Pencils: a variety of leads ranging from 6B to 4H
X-acto knife/utility knife – for sharpening pencils
Kneaded Eraser, Vinyl Eraser
Pens: one felt tip, one ballpoint, one fine-tip black ink technical pen (like Pilot or Micron)
Drawing board—about 20 x 26 inches (Can be a piece of hardboard, smooth on one side)
Drafting or Blue Painters' tape
Sketchbook (optional but encouraged)
Requests for cancellation by the student at least fourteen (14) days prior to the first day of the workshop will be honored (minus a $20 processing fee). NO REFUNDS will be given for a student cancellation made less than fourteen (14) days prior to the first day of the workshop.