Drawing for Beginners
---
Date & Time: July 14, 21 and 28; 10 am – 1 pm
Registration Deadline: July 11
This class focuses on developing observational skills and drawing techniques, employing a wide range of drawing media, including charcoal, graphite, Conte, and ink. Students develop both technical abilities and creative responses to material and subject matter. No prior experience with drawing is required or expected.
Please contact the GAAC Education Manager for any questions or to be added to a waiting list if registration is sold out.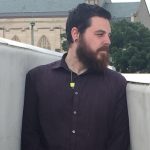 Dylan Evans Weiler holds a BFA from Northern Michigan University and earned his Master of Fine Arts from Laguna College of Art and Design. His primary focus during his studies was painting. His practice includes a diverse set of media, including printmaking, the historical photographic process, sound, and installation. He brings together traditional and new media to create a more engaging experience for the audience. dylanevansweiler.com
Paper: one pad of white drawing paper (at least 11 x 14 inches)
Pencils: a variety of leads ranging from 6B to 4H
X-acto knife/utility knife – for sharpening pencils
Kneaded Eraser, Vinyl Eraser
Pens: one felt tip, one ballpoint, one fine-tip black ink technical pen (like Pilot or Micron)
Drawing board—about 20 x 26 inches (Can be a piece of hardboard, smooth on one side)
Drafting or Blue Painters' tape
Sketchbook (optional but encouraged)
Minimum Enrollment
Glen Arbor Arts Center reserves the right to cancel any class or multi-day, sequential-day workshop that does not meet its minimum student enrollment prior to the first class session. If a class is cancelled by GAAC for lack of enrollment, GAAC will offer a full refund to the student in the manner in which tuition was paid (Cash payments will be refunded by check). Please be aware that GAAC is not responsible for losses incurred due to housing, travel or other arrangements.
Refunds
Requests for cancellation by the student at least seven (14) days prior to the first day of class will be honored (minus a $20 processing fee). NO REFUNDS will be given for a student cancellation made less than seven (14) days in advance of the day of the class.
COVID-RELATED UPDATES TO 2021 PROGRAMS AS OF MAY 18, 2021
To ensure the safety of our students and staff, we have implemented new procedures for our 2021 programs, to mitigate the spread of COVID and still allow participants to have a wonderful time creating art.
Class sizes will be limited to 12 persons or less for outdoor programs and 8 or less for indoor programs.
All students must wear face coverings inside the center when social distancing isn't possible.
Students and staff will wash and sanitize hands frequently throughout the day.
Common areas and touched surfaces will be sanitized regularly.
To keep pace with the evolving conditions related to the pandemic, any new policies or procedures for classes will be communicated by June 15, 2021.