Drawing: Embracing the Basics Cancelled
---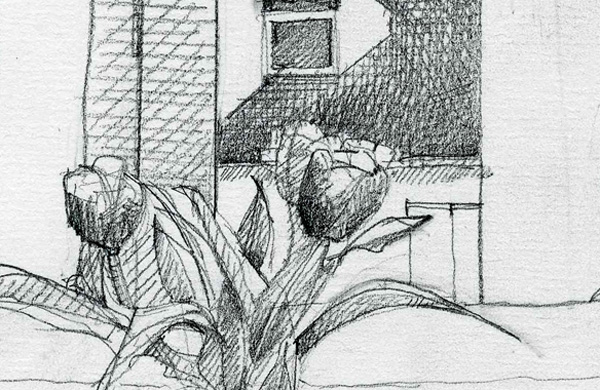 Due to the corona virus, this class has been cancelled.
Dates: June 9, 16, 23 & 30
This multi-session class introduces participants to drawing techniques that develop basic skills. The class will explore dark-to-light value range using a variety of pencils and pens. Experimentation with simple line work, cross hatching and blending will be explored while focusing on direct observation of still life objects. The class includes demonstrations, discussions and presentations of drawing examples from the Masters to contemporary artists. Creating a personal sketchbook will be encouraged.
Joan Richmond, a graduate of the Art Academy of Cincinnati and holding an MFA from the University of Notre Dame, taught painting for 10 years at Northwestern Michigan College and continues to instruct drawing and painting workshops. Richmond works both in open air– Michigan, Ireland, Canada, Italy—and her studio in Traverse City. She exhibits regionally, is represented in Midwest corporate collections and has served at several residencies including a visiting artist at the American Academy in Rome the spring of 2015 and 2016.
June 9, 16, 23 & 30, 9am-12pm
Paper: one pad of white drawing paper (at least 11 x 14 inches)
Pencils: a variety of leads ranging from 6B to 4H
Eraser(s)
Pens: one felt tip, one ball-point, one fine tip black ink technical pen (like Pilot or Micron)
Drawing board–about 20 x 26 inches (Can be a piece of hardboard, smooth on one side)
Drafting or masking tape
One small sketchbook (optional but encouraged)
Instructor will provide additional pencils, pens, view finders and pencil sharpeners.
Refunds: Requests for cancellation by the student at least thirty (30) days prior to the first day of the workshop will be honored (minus a $20 processing fee). NO REFUNDS will be given for a student cancellation made less than thirty (30) days prior to the first day of the workshop.
Minimum Enrollment: Glen Arbor Arts Center Arts Center reserves the right to cancel any class or multi-day, sequential-day workshop that does not meet its minimum student enrollment prior to the first class session (30 days prior for multi-day workshops). If a class is cancelled by GAAC for lack of enrollment, GAAC will offer a full refund to the student in the manner in which tuition was paid (Cash payments will be refunded by check). Please be aware that GAAC is not responsible for losses incurred due to housing, travel or other arrangements.