Drawing Birds Together – Outdoor Family Class
---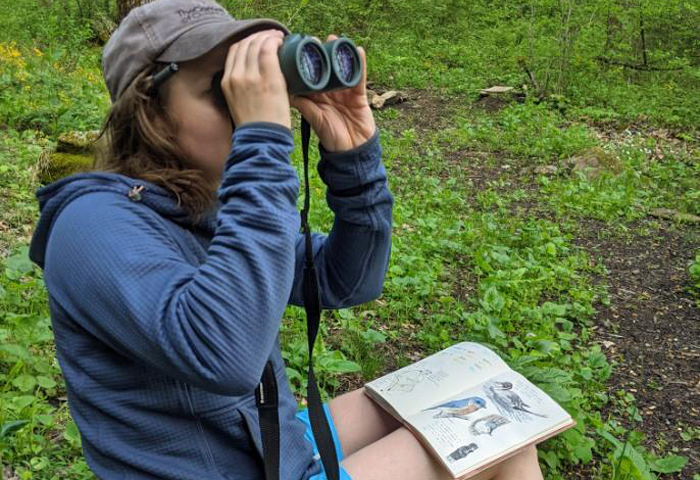 Date & Time: June 25; 10:30 am – 12:30 pm
Registration Deadline: June 22
Let's draw birds— but first, a field trip! Participants will go on a bird outing at the Sleeping Bear Heritage Trail with the instructor, practicing listening for bird calls. Binoculars will be provided to help spot birds on the trail. Following the hike, we will sketch and depict the scenes outside. Drawing from nature's inspiration, participants will create robins and woodpeckers using colored pencils. Please note: an email will be sent with detailed instructions for where to meet, weather conditions, etc., two days before class.
Hannah Safford studied Drawing and Art Education at Montana State University. Since leaving school, she has been teaching drawing and painting classes at art centers in Michigan. She's an avid birdwatcher and uses her illustration skills to record the birds as she sees them in her sketchbooks. Her work was recently published in the children's book Hector: A Small Painted Turtle. www.hmsafford.com
Minimum Enrollment
Glen Arbor Arts Center reserves the right to cancel any class or multi-day, sequential-day workshop that does not meet its minimum student enrollment prior to the first class session. If a class is cancelled by GAAC for lack of enrollment, GAAC will offer a full refund to the student in the manner in which tuition was paid (Cash payments will be refunded by check). Please be aware that GAAC is not responsible for losses incurred due to housing, travel or other arrangements.
Refunds
Requests for cancellation by the student at least seven (7) days prior to the first day of class will be honored (minus a $20 processing fee). NO REFUNDS will be given for a student cancellation made less than seven (7) days in advance of the day of the class.
COVID-RELATED UPDATES TO 2021 PROGRAMS AS OF MAY 18, 2021
To ensure the safety of our students and staff, we have implemented new procedures for our 2021 programs, to mitigate the spread of COVID and still allow participants to have a wonderful time creating art.
Class sizes will be limited to 12 persons or less for outdoor programs and 8 or less for indoor programs.
All students must wear face coverings inside the center when social distancing isn't possible.
Students and staff will wash and sanitize hands frequently throughout the day.
Common areas and touched surfaces will be sanitized regularly.
To keep pace with the evolving conditions related to the pandemic, any new policies or procedures for classes will be communicated by June 15, 2021.