Block Printed Tea Towels
---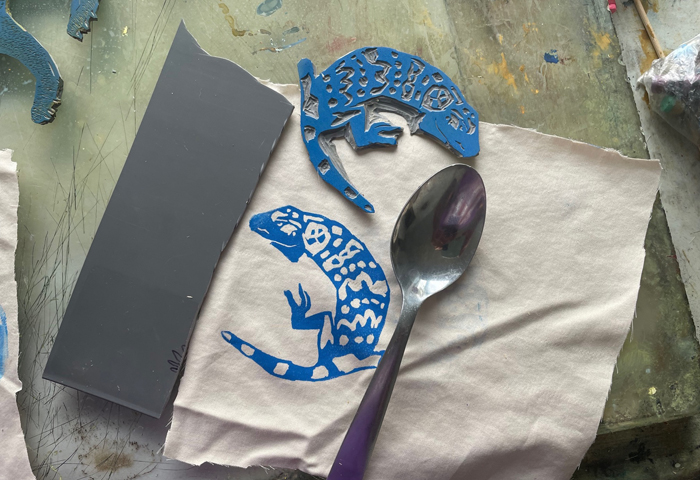 Date: September 24
Time: 11 am – 3 pm (with a break for lunch)
Registration Deadline: September 21
Location: GAAC
Students will design, carve and print their own designs and patterns on tea towels. Learn how to use linocut tools, experiment with mark making, transfer a drawing to linoleum, carve the linoleum, roll ink and print by hand. We'll print patterned tea towels with special fabric inks that are washable after drying. The linocuts you make in class are yours to keep to continue printing at home.
Cindi received an MFA in Printmaking at Kendall School of Art and Design and was awarded a fellowship scholarship. Ford has won numerous awards at the local, national and international levels. Her work has been in galleries in Michigan, Indiana, Florida, New York, Connecticut, Pennsylvania, North Dakota, New Mexico, Rhode Island, Japan, and South Korea! Recently she was accepted into "The Society of Graphic Artists" in New York. Cindi was an adjunct professor in printmaking at Kendall School of Art and Design! In 2017 she moved to her cottage on the Torch Lake Bayou to pursue a full-time career in creating prints. cindiford.com
All materials provided, but feel free to bring in images you'd like to use.
COVID-RELATED UPDATES TO 2022 PROGRAMS AS OF December, 2021
To ensure the safety of our students and staff, we have implemented new procedures for our 2022 programs, to mitigate the spread of COVID and still allow participants to have a wonderful time creating art.
Class sizes will be limited to 12 persons or less for outdoor programs and 8 or less for indoor programs.
All students must wear face coverings inside the center.
Students and staff will wash and sanitize hands frequently throughout the day.
Common areas and touched surfaces will be sanitized regularly.
To keep pace with the evolving conditions related to the pandemic, any new policies or procedures for classes will be communicated.